A Dinner Engagement / Comedy on the Bridge
Music by Lennox Berkeley, libretto by Paul Dehn / Libretto and music by Borislav Martinu, after the comedy by Václav Kliment Klicpera, English version by Walter Schmolka
Minotaur Music Theatre
Rosemary Branch Theatre
(2011)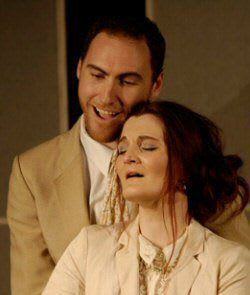 Lennox Berkeley's short 1954 opera A Dinner Engagement, first staged at Aldeburgh by Britten's English Opera Group, is an amusing bon bon about an impoverished aristocratic couple entertaining European minor royalty with an eye to marrying off their daughter.
We find the Earl of Dunmow in his kitchen trying to decipher what he needs for a recipe when a delivery boy turns up with some of the ingredients and demands payment for them, very unhappy at being told to put it on the Countess of Dunmow's account.
There is a home help, Mrs Kneebone, who has come in for a couple of hours to help, and the Countess is trying to get their daughter Susan to put on some makeup and a glamorous dress they have acquired for her.. Dehn's jokey libretto mixes recipe details, family bickering and reminiscences of the days long past when Dunmow was in clover as the Minister Plenipotentiary to the Duchy of Monteblanco. It is light-heartedly and musically delightful and if the sopranos float into regions where the text may be incomprehensible it is of no particular consequence for you've got the general idea.
David Milner-Pearce doesn't really look old enough for an Earl who has been around so long and with a daughter as grown up as Louise Lloyd's Susan but with Elizabeth Roberts as the Countess they make a very tuneful family. Emily Kenway, chopping up the vegetables, achieves the not-so-easy feat of singing Mrs Kneebone, working for a reduced fee of 2/6d, with an accent
They do get things in the oven but soon it's burning and it's then their guest arrive: HRH Prince Phillipe, whom Dunmow last saw as a little boy twenty-five years ago, and his jewel-bedecked mother the Grand Duchess of Monteblanco. who almost instantly remarks with aristocratic enthusiasm on how clever they have been to decorate their drawing room exactly like a kitchen.
Sara Gonález Saavedra makes a gloriously sung and very understanding Duchess and Alberto Souza. in good voice as the charming prince, is delighted to find a young woman so different from the socialites he's used to. There are more subterfuges and exposures but everything is lined up for a happy ending - even the tradesman gets his bill paid, though when Mrs Kneebone finally announces to the happily harmonising quintet that "Dinner is Served!" you can't help wondering where it has come from!
Based on a 19th-century Czech play and originally composed for radio in 1935, Comedy on the Bridge, Martinu's mini-opera, is a strange kind of comedy. It presents a group of people attempting to cross a bridge between the territories of two opposing factions. Each of them has a pass that allows them past the sentry on the side from which they approach but then the other side bars their way and, on attempting to go back, they find they are not allowed to pass back their either.
First trapped there is Josephine (Georgia Ginsberg), she is joined by the brewer from her village (Joseph Padfield) whom she asks for help, which leads to a kiss, seen by her boyfriend Johnny (Owen Browne) who is next to arrive. Then Eva the brewer's wife (Marta Fontanais-Simmons) turns up, suspiciously asking where he has been.
There is a certain humour about their jealousies and misunderstandings, which temporarily make them oblivious to the trap they are. When the Schoolmaster (Samuel Smith) arrives, spouting Latin, they feel sure that he will prove their saviour, but he is only interested in an intellectual problem of his own and, as they dodge a barrage of bullets, no escape seems possible
I have no idea what may have sparked off the original play, both it and this opera were unknown to me, but the situation certainly has modern resonances with people trapped between two sides in civil and sectarian wars and is best thought of as some sort of surreal allegory. The singers deliver music that is often more engaging than what they are singing about and manage to imbue their characters with a reality that makes them seem much more interesting than the libretto suggests. No doubt it is the score's attraction that has warranted this revival rather than the story, but it makes a contrast to the effervescence of Berkeley's froth.
"A Dinner Engagement" and "Comedy on the Bridge" are at the Rosemary Branch Theatre until 3rd October 2011
Reviewer: Howard Loxton