dinnerladies
Victoria Wood, adapted from the TV scripts by David Graham
Yvonne Arnaud Theatre, Guildford, and touring
(2009)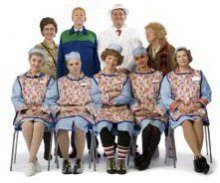 The sitcom dinnerladies first appeared on our TV screens in 1998 and immediately became compulsive viewing. Wood takes ordinary, everyday settings and finds in them both comedy and tragedy, her hilariously witty dialogue bringing out the absurdities of human behaviour in a manner that is both comical and touching, and the characters are totally plausible with their hopes and fears, insecurities and triumphs.
Set in the canteen kitchen of a Manchester factory, in this show the action takes place over an eight month period with the passing of time indicated by a neon sign over the work space, and the main focus is the tentatively blossoming love between canteen manager Tony (Andrew Dunn - reprising his original role) and deputy manager Bren (Laura Sheppard - an amazingly accurate representation of Victoria Wood in the part), with irrepressible secretary Jane (Sue Devaney - also an original) excitedly taking bets on the 'will they - won't they?' outcome.
There is no question of anyone here 'making the part their own', and it would have seemed wrong to do so. The characters were so well drawn in the first place, and so fixed in the minds of the viewers, that any changes would have been a disappointment. Instead casting has done a great job finding performers who not only resemble the originals, but have succeeded in adopting their style, voice and mannerisms so well that nothing seems to have changed.
The other workers in the kitchen are Jean (Stella Ross), anger and depression at her husband's desertion magically changing to dreamy happiness at the acquisition of a sexually active toy-boy; her 'sparring partner' Dolly (Liz Bagley) whose air of superiority doesn't prevent some spitefully funny asides; slow-witted Anita (Krupa Pattani) always getting the wrong end of the stick; and rebellious, hopeless timekeeper, teenage Twinkle (Emily Butterfield).
There are sexual innuendoes galore, but said with such matter-of-fact innocence that Barrie Palmer's handyman, Stan, exiting to the toilet for a little 'nut adjustment' seems perfectly feasible, although Twinkle's 'Good Knob Guide' is just what is says on the cover and not something to put on Dolly's wardrobe.
Louise Dumayne pops in and out as Philippa - Human Resources Department - and as well-meaning and ineffectual as the original Celia Imrie - and there is a delightfully hilarious cameo performance from Deputy Stage Manager Peter Brad-Leigh as Bob, desperate for a bacon sandwich and a cup of tea, and doomed to disappointment with the ladies on 'tenterhooks about progress of the romance." Who could forget the Julie Walters' role of Petula, the irresponsible, ageing hippy, bag-lady who "wishes she had the courage to be bourgoise" and "put her daughter in an orphanage and forgot the address". Now wheedling for sympathy (and money) from the daughter - and nearly ruining Bren's hopes in the process, she is brought to repulsively hilarious life by Jacqueliine Clarke.
Chemistry, dialogue, comic timing can't be faulted with any one of them - a great team.
This is the first stage version of the show, and those who loved the TV series will welcome the chance to relive it again - it has lost none of its appeal and is just as funny second time around, although if there is anyone who missed it (and where were you?) it may be a little confusing. The Guildford audience loved it - and so did I. A real treat!
Touring to Crawley and Bournemouth
Reviewer: Sheila Connor