dinnerladies
By Victoria Wood
The Comedy Theatre Company
Corn Exchange, Newbury, and touring
(2011)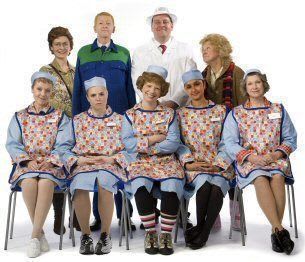 Victoria Wood's dinnerladies was a highly successful BBC sitcom set in the canteen of HWD Component's Manchester factory. It has been lovingly transformed into this side-splittingly funny stage adaption.
It's a good old- fashioned serving of comedy and Wood's keenly observed script sizzles with wry humour, sexual innuendoes and some stunning one-liners.
Malvern Hostick's set design perfectly captured the bustle of the industrial canteen with a scrolling screen depicting the passage of time.
Andrew Dunn reprises his television role as Tony the canteen manager with consummate ease. Laura Shepherd is splendid as the assistant manager hoping that the tentative romance between the two will blossom. She had a marked resemblance to Victoria Wood when she played the part.
Sue Devaney was outstanding as Bren's ageing, hippy sex mad mother who is on thirteen different types of tablets and "put her daughter in an orphanage but forgot the address". She threatens to disrupt the whole canteen and is after money from her daughter. Her final drunken collapse was hilarious.
The plot explores the daily lives of the kitchen workers over the Christmas and New Year period. There is Stan (Barrie Palmer) the moaning maintenance man, screwdriver in hand, who is trying to keep the canteen functioning as he disappears into the toilet to "adjust his nuts."
Wood's characters are beautifully crafted with Norman (Mark Huckett) who has an allergy to bread, which creates problems since he is the bread deliveryman. Emily Houghton is suitably 'chav' like as the forever-late churlish Twink.
The rather superior Dolly (Gay Lambert) is constantly bickering with Jean (Margaret Preece) and they make an excellent comedy duo. Dolly's caustic asides were risible.
Krupa Pattani brings an emotional touching dimension as the young mother who leaves her newborn baby on the fire escape and Human Resource Manager Philippa (Rebecca Wingate) has bad news for the dinner ladies as the factory is threatened with closure.
Bren enters a television quiz show Totally Trivial in order to win some money and perhaps go with Tony to Scotland and we were able to watch the broadcast on a large monitor. I won't spoil the plot by revealing the result.
This was very much an ensemble production with each actor blending into a delightful 'hot pot' that perfectly captured the soul of the original show.
Directed with brio by David Graham this was a highly entertaining evening that received enthusiastic applause and much laughter from a packed Corn Exchange.
Touring to Aylesbury Waterside Theatre (16th-18th June), Torquay Princess Theatre (11th-16th July), Birmingham Alexandra Theatre (18th-23rd July) and Woking New Victoria Theatre (25th-30th July).
Reviewer: Robin Strapp