My Music and Me
Dionne Warwick
Shaw Theatre
(2006)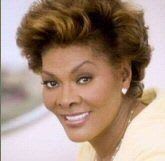 Dressed casually for the first part of her show, Dionne Warwick commenced by conversing with the audience, which engaged her with laughter and enthusiastic rounds of applause.
She introduces herself in the third person. She presented a sort of autobiography turned into a biography. That added to the humour and, on occasion, to the inevitable cynicism that she attached to certain experiences in her life. Songs, many of which were hits, filled the auditorium at the Shaw theatre
We are taken down memory lane as if all is still here, just round the corner. The introduction provided the most casual biographical background with comments like: "Born in 19 (pause) and in a very good year."
She highlighted the opportunities that had been offered to her and her resourcefulness and determination not to shy away from any opportunity to move on. Her song 'Make it easy on yourself' was a breakthrough. She did not look for easy way outs for herself.
In the early 1960s, France offered her an international stage every young singer dreams of. She described the encounter she had at Charles de Gaulle Airport, when coming to her first performance at the music hall in Paris Olympia. She spoke of a limousine parked on the tarmac waiting for someone. She was walking towards the bus with all the passengers when approached by a tall blonde who told her that she was to come with her to the limousine. Dionne insisted that she should take the bus, and then the blonde introduced herself as Marlene Dietrich. Young Dionne was taken care of by Dietrich!
"She told me to throw away all my clothes and that I must only wear haute couture. That was the start."
In Olympia, in the audience, were two men. They heard her sing and before she reached the UK, she heard her song sang by " mmm well I forgot her name oh yes, Cilla.. Cilla Black. It was her hit. Now you can hear it from the person who sang it first" and she broke into "Anyone who had a heart".
Dionne was cheated out some of her songs by other British singers, but she managed to keep singing for over 45 years and have many great hits.
At 66, she can still sing and engage young and middle-aged audiences. She is able move from low to high notes, though cannot now reach the high controlled notes that she was famous for in her heyday. Her voice is deeper and she does not have the wide vocal range she once had. However, that is compensated for by her amazing phrasing and ability to relate to the audience. She can still deliver the emotions conveyed in her songs.
The accompanying band was excellent. It consisted of her sister Dee Dee Warwick and niece Felicia Moss Eaton as Backing Vocals, Renato Brasa (percussion), Jeffery Lewis drummer, Todd Hunter and Rob Shrock (Keyboards), Roger Wade (Short Bass).
The evening was rich with songs and humour. The audience loved it.
Dionne Warwick has preserved her youth in her music and family. She is a proud mother to two sons and six grandchildren. Her dream was to find a place which is stress-free. She claims to have found this in Brazil.
At the Shaw theatre until 16 December
Reviewer: Rivka Jacobson