Dirt
Robert Schneider
Arcola Theatre
(2009)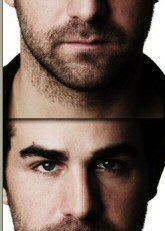 A bearded man with ripped grey trousers wanders Arcola Street peddling deep red roses. He looks lost and uncomfortable. This same man sits in front of us in the intimate Arcola Studio 2 and introduces himself as Sad, but he is not sad. A bucket of roses sits downstage with a few others scattered over the bare stage. A TESCO plastic bag hangs on the wall. Sad lights two candles so that we can see his face: a tired, but bright eyed man whose life has been transposed from Basra to a London (although at times it feels like New York).
He is an illegal immigrant who has lost any sense of self-worth. We're never informed of why he's left home - was this a choice or a necessity? Within the opening five minutes he has repeatedly told us that he has no right to many things, from park benches and public toilets to Sundays. Over the next 65 minutes we are his sounding board, and the judgemental eyes he encounters everyday. We are his haters who ignore him on the tube, we are the 40 year old men who buy a rose from him on his eight mile daily route, the parents who worry about their children sharing school desks with foreigners, those who think that foreigners are here to steal our jobs and cash in on our social system.
We are never allowed to sit back and listen. Christopher Domig's portrayal of Sad is dynamic and compellingly understated. He looks us in the eye from word go and constantly implicates us in his despairing life. His first English word was 'Kodak', and he shows us a picture of his mother and a girl who no longer writes to him. He bites into a raw onion and relishes our grimaces. He 'loves' this country, loves the English language - his first purchase was the best Arab-English dictionary which cost him 348 roses.
Poetic moments such as this charm and bitterly evoke the sadness of Sad's life. Robert Schneider's text is informed and powerful, but often too repetitive and didactic in its attack on Western countries' treatment of immigrants. The Arcola Theatre is situated in a community which is a shining example of how diverse and successfully multi-cultural London is. Lines such as "You no longer have to be afraid when you see a few black faces outside" seem strangely outdated and misplaced here.
Domig often asks the audience questions, but there is never a space for our response. As with Domig wandering the streets before the play begins, it seems director David Robinson wants to create an active dialogue with the audience but doesn't quite got for it. Although it is too one-sided to create a dialogue about the political and personal situation in which so many people find themselves, Dirt is a gently thought-provoking exploration of the illegal immigrant's place within our society.
Runs until 15 August 2009
Reviewer: Terry O'Donovan