Dirty Dancing - The Classic Story on Stage
Eleanor Bergstein
Karl Sydow, Joye Entertainment and Paul Elliott in association with Lionsgate and Magic Hour Productions
Opera House, Blackpool
–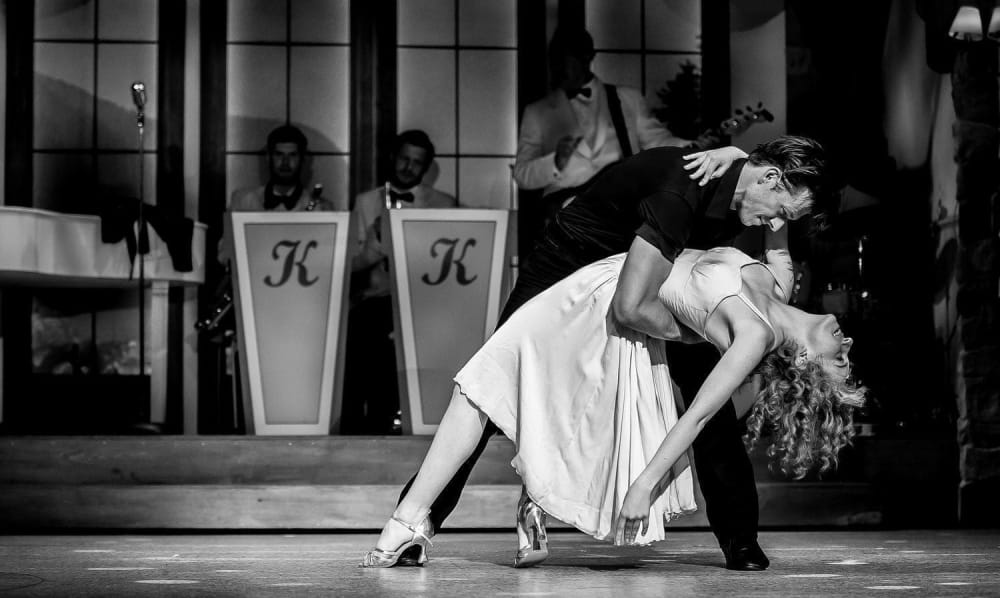 Big show title; given a big Blackpool première for this new tour; and on one of the biggest stages in Europe. So no pressure then?
Well none evident, even in a production given some new Italian innovation by director Federico Bellone and set designer Roberto Comotti. Maybe added Latin passion does no harm to a story that's basically about sexual awakening. It might even explain a little seaside postcard 'cheekiness' that seems to have bared itself in this latest touring production. To say more might spoil the effect—but it got an appreciative roar of approval from the first night audience here.
Almost as loud as the standing ovation at its final curtain. And why not? Dirty Dancing – The Classic etc., has all the elements of musical theatre in abundance. A good book, more than 40 classic pop songs and a dance class full of moves that climaxes in one of those iconic film moments, the choreographed lift sequence that briefly became de rigueur at every wedding reception.
Theatre audiences therefore expect, and are given, a live version of the movie—greeting chunks of dialogue and setpiece sequences like familiar friends. The risk is that the production then becomes little more than karaoke musical theatre. This show avoids that by allowing its main performers just enough space to develop and sustain their characters, without them becoming slavish clones of the originals.
And that's not easy amidst a supercharged story, with dozens of scene changes and a set design that spins, if not always of its own accord, then certainly thanks to some evidently muscular scene shifting.
Lewis Griffiths as Johnny and Katie Hartland as Baby create a convincing stage chemistry in their own right, while high-kicking Carlie Milner looks like she could knock the top off Blackpool Tower. There are distinctive cameo performances nearly everywhere else you look, and in a show with a cast of more than 20 that's also no mean feat.
Blackpool is not always best served by some of the shows it receives, but this is one it deserves to take to its heart.
Reviewer: David Upton