Dirty Dancing
Eleanor Berstein
Karl Sydow and Joye Entertainment
Piccadilly Theatre
–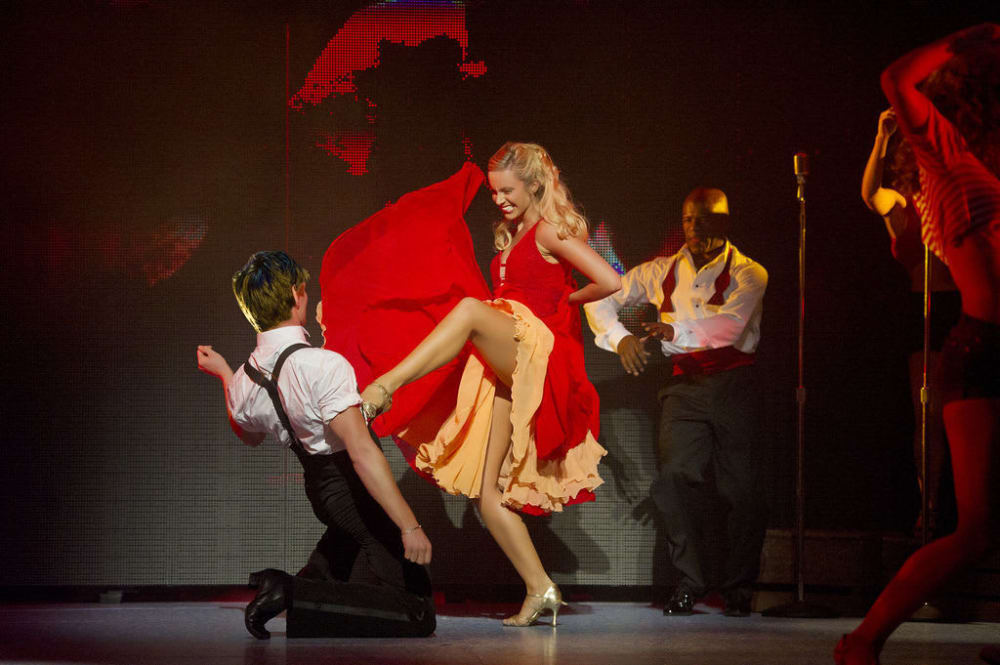 Dirty Dancing is back in the West End. I never saw the original 1987 movie nor any previous manifestation of this stage version which was first staged in Australia in 2004 and from 2006 had a hugely successful 5-year run at the Aldwych Theatre so I come to it free from any prior conceptions.
As you probably know, the story is set in 1963 in a changing and hopeful America with JFK president, the civil rights movement growing and Martin Luther King making his "I have a dream" speech.
It is all about a nice, respectable daughter of a doctor who encounters a personable dance coach at a holiday resort in the Catskills, a place rather like an upmarket Butlins, and has her eyes opened to other people's lives, to love—and to dancing.
A portable record player on an empty stage greets the audience, a splash of red against grey, but the auditorium is spotted with light, a glimmer on every seat hints at simplicity and audience involvement.
The opening indeed is simple: shadows that dance as Jill Winternitz's Frances "Baby" Houseman plays records turn into living dancers as the lights come up behind a gauze. The basis of Sarah Tipple's production and Stephen Brinson Lewis's set is also simple: slatted panels, flown-in video screens and photographic projections that make transitions from scene to scene flow effortlessly. The effect however is a stage bursting will colour and activity.
With 47 musical numbers, admittedly some of them only snatches but almost all of them dance numbers, this is a high-energy show that has the stage buzzing with Kate Champion and Craig Wilson's choreography that should keep any Strictly Come Dancing fan very happy.
There have been years in which to fine tune the show and most of this cast have already spent time touring it so it is not surprising that it is an extremely slick presentation but that should not detract from the spot on proficiency of the performers.
With so much music content dialogue is limited only to what's essential and the plot isn't always clearly presented, songs and physical interaction play a large part in its telling but the underlying serious matters about America's class divisions and inequalities get rushed through to concentrate on feel-good enthusiastic dancing.
Although the show begins with "Baby" Houseman directly addressing the audience, this is a production that largely ignores the audience thereafter and goes on in a separate world on stage. With its mixture of an excellent live band and some pre-recorded numbers from the period, it is heavily miked and the sound balance makes this very obvious.
There is a lot of personality on stage and it is a pity that it does not have the chance to build more of a bridge with its spectators. In a programme introduction Dirty Dancing's creator Eleanor Bernstein writes of her wish for the audience "to share the moment" with the actors and dancers and singers and to bring a new audience into theatre and "make them understand that live theatre is the best performance experience of all." Sound thinking, but though the music and dancing will carry the audience with it, that "fourth-wall" soon establishes itself losing some of what theatre can offer.
Jill Winternitz is a delightful innocent as "Baby". It is no mean skill for a capable dancer to play someone who starts off as a clumsy amateur and gains abilities and she allows shows her understanding growing along with her dancing skills as she gets closer to Paul-Michael Jones's dance-instructor Johnny Castle. He too marks a change in perception as he realises that someone from the posh side of the tracks is also human.
Charlotte Gooch gets little chance to establish her character as Johnny's Penny but she shines as a stunning dancer in a company which offers plenty of competition, and there are also particularly strong performances from Colin Charles as band leader Tito and Wayne Smith a Johnny's cousin Billy.
The set's emphasis on technology and the lack of any real attempt to establish the resort world for those not already familiar with the set up did not encourage involvement but as the show warms up so do its attractions.
"The Classic Story on Stage" says the line below the title. Classic by what standards? Judging by the enthusiasm of the audience and the lines outside the theatre it certainly seems to be one which many people have taken to their hearts. Is it in for another long West End run?
Reviewer: Howard Loxton