Dirty Great Love Story
Richard Marsh & Katie Bonna
Tim Johanson
Arts Theatre
–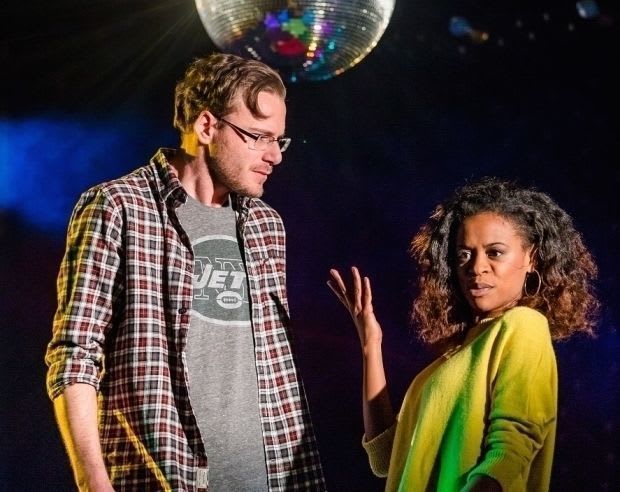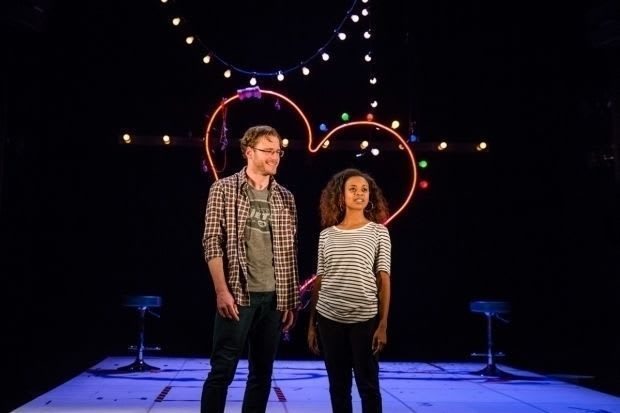 When a couple of thirty somethings accidentally meet when a stag party crashes into a hen party, they end up in a one-night stand. Both get a shock when they wake up next morning in a strange room with an almost stranger. She goes off to re-join her hen party; he's disappointed. But what do you expect from a drunken encounter? Romance?
Dirty Great Love Story started off as a 10-minute poetry battle between the writers and over two years developed into an 80-minute play that they took to Edinburgh, Bristol, Soho, Off-Broadway and elsewhere. Now, with a new cast it reaches the West End.
The play covers two years in which Richard and Katie do go on seeing each other, they can't help it for, though they each found a new partner, both had a best friend at those original parties and they hit it off and got married. But hey it's a rom-com: so of course they are going to end up together. There is nothing new or very special about that, but it's not your ordinary boy gets girl, loses girl, gets again story. How often do they have a girl going down for a blowjob while they are driving who fetches up her dinner instead? Ugh! But you can't help laughing.
Yes, it is pretty explicit but very, very funny, not least in its multiple rhyming, and it bounces along with plenty of brio.
From the beginning when Ayesha Antoine (as Katie) and Felix Scott (as Richard) start to tell us "This is the story of…" only to be interrupted by their ringing mobiles, his slightly awkward but gentle Richard and her crazy, up-for-it Katie create a rapport with the audience and they keep us engaged by their naturalness and vitality.
Designer Camilla Clarke keeps things very simple with a couple of barstools on a ramped white rostrum with a few symbols painted on it and a string of light bulbs hung above. Director Pia Furtado stages it with plenty of movement but none of it seems artificial; the running rhymes express its sheer exuberance.
It's a love story and, yes, you could call it dirty (though the nude scenes and intimate moments are played fully clothed and very discretely) but the performers not only make Richard and Katie real but they play all the other characters encountered too—they're great, you'll see a lot of yourself or your friends in them. So, it is all in the title: Dirty Great Love Story; if it sounds like your idea of a Valentine treat you had better book now.
Reviewer: Howard Loxton