A Disappearing Number
Conceived and directed by Simon McBurney
Complicite
Barbican Theatre
(2008)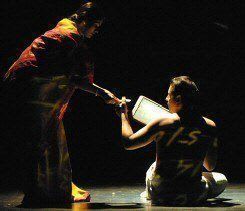 The National is doing it with War Horse and now it's the Barbican's turn as Complicite return with A Disappearing Number. Back in 2007 it came away with a number of accolades including the Olivier for Best New Play and had people queuing round the block for return tickets.
Who would have thought a play about maths would have got London's theatre-going public so excited? It's difficult to sum up (excuse the pun) exactly what A Disappearing Number is about as it seems no explanation will do it justice. It is so much more than a play about numbers and yet numbers are everything in this play.
Exquisitely devised, A Disappearing Number takes you on a journey I would not have thought was possible from the comfort of a theatre seat. The true story of the relationship between the brilliant Indian mathematician Ramanujan (Divya Kasturi) and Cambridge Professor, G.H Hardy (David Annen) and the work they did together back in 1913 is intertwined with the life of the passionate and enthusiastic Maths lecturer, Ruth Minnen, played by the utterly compelling and totally adorable (Saskia Reeves) and her partner Al Cooper (Firdous Bamji). Supported by a tremendous ensemble their stories unfold in front of you.
Maths is often perceived as cold and isolating, disconnected from real life and yet it is the one element that unites these characters. School is often to blame for many people's phobia of numbers and maths and as A Disappearing Number begins with formulae and equations that go on and on, one doubts that they are going to be changing their opinions on numbers anytime soon.
However as numbers swirl across the stage, stories are told backwards, forwards and from the middle, all colliding and collaborating simultaneously, the relevance of numbers and maths in our lives starts to become clearer. This is not a piece designed to convince you that maths is wonderful, it a piece designed to tell a story whilst at the same time presenting the value of maths and how life is reflected in numbers and numbers are reflected in life.
Simon McBurney's direction is effortless and the fluidity of Complicite's work is truly remarkable. I would have never thought it possible to tell so many tales in so many diverse and mesmerising ways. There is a real filmic quality to the piece which is not created from the screen projections but from the skill in with Complicite navigate around these stories; a feat which is usually accomplished by a highly skilled editor.
Michael Levine's design is exceptional and as enthralling as the performance. As with numbers, there seems to be infinite possibilities to what the set can do as you're transported from a lecture hall to the bustling streets of Bombay to an aeroplane. The cast nimbly move amongst these interwoven stories reflecting the beautiful patterns that numbers create on the screens behind them.
One person's interpretation of A Disappearing Number will be quite different to the next. You may take nothing from it or you make take everything, the readings are infinite and in keeping with this theme I could probably talk about this piece forever, constantly discovering something new.
Running until 1st November
Philip Fisher reviewed the original production at the Barbican Pit and Jackie Fletcher reviewed it in Paris in 2008
Reviewer: Rachel Sheridan