Disco Pigs
Enda Walsh
Reading Rep
Tron Theatre, Glasgow
–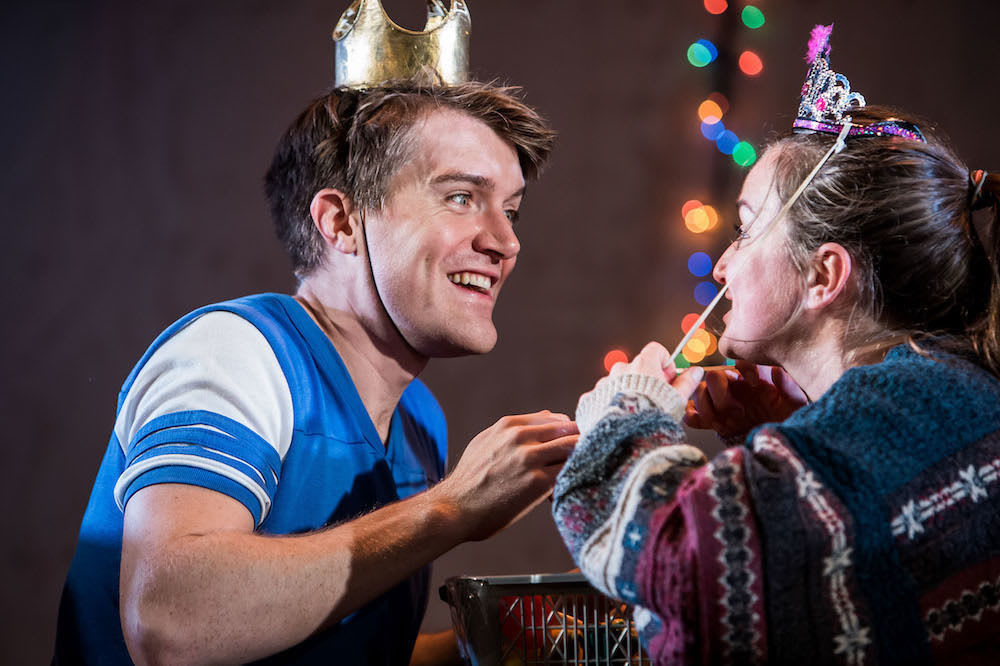 An energetic revival of Enda Walsh's hit show, first performed in 1997, so successful it made it onto the big screen.

The play, though, is very much a live theatrical experience, a two-hander with the two actors on stage the whole time. It's a concentrated whirlwind in a living room and the audience gets increasingly caught up in it.

Pig (Ciarán Owens) and Runt (Amy Molloy) are two Cork teenagers born within seconds of each other in the same ward. Now seventeen, they tell the story of their friendship, an intensity that leads to self-destruction.
There is a infantile chaos which runs through all streams of the play, the narrative jumps around, the dialogue is a eclectic mix of Cork dialect, animal sounds and baby talk and the sound occilates between jumpy disco beats and watching television lulls.
Visually, it is equally variably textured, the actors are already messing about in their living room, full of nostalgia inducing decor, thick swirling carpets and tape players, while the lighting for the night time forays takes you back to the clubs of yesteryear.
Dummies and dolls allow Pig and Runt to narrate the story of their lives without the need for other actors. It is a very childish method of storytelling, but that only adds to the dark nature of the story.
At first, you see the similarities of the two characters, acting like twins, although they are born of different parents. As the play goes on, this starts to unravel as you see the differences between them.
Runt matures faster and starts to want for something other than their friendship is giving her. Pig meanwhile wants their friendship to progress to something else. With Runt's new-found interest in other men, it is a recipe for problems.
The monologues they deliver are as impressive as the breakneck dialogue; both actors make you feel some empathy for their characters. Molloy is great at showing Runt's change into a more adult character, while Owens is quite scary at times displaying Pig's infatuation with Runt.
Both actors have it seems unlimited reserves of energy, bouncing around, jumping from scene to scene and ably recreating heaving, sweaty, night club dance floors. You get so caught up in it that you almost feel tired out at the end.
The theatre bar before the play was packed and I'm sure many others like ourselves were going out after—at one hour ten minutes long, there's still plenty left of the evening.
The play has a catastrophic ending, but does have some hope as well. It's also a lesson in intense isolationist relationships. You see the highs though as well as the lows.
An amazing way to fill just over an hour: fun, immersive and shocking almost at the same time. Touring the UK, so maybe hitting your town soon—watch out.
Reviewer: Seth Ewin