Discover Limehouse Chinatown

Yellow Earth Theatre
Rich Mix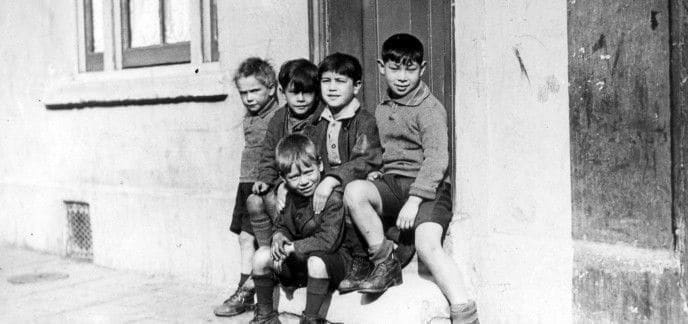 Kung Hei Fat Choy! Happy New Year!—or literally "may you prosper" for today we enter the Year of the Horse and this 45-minute presentation, a foretaste of Yellow Earth's bigger scale production which is coming to Limehouse Town Hall this summer, is presented as part of a day-long festival of the Chinese community and Chinese culture at this East End arts centre which also features the classic lion dance, Shaolin Kungfu, Chinese music and painting and of course food.
This mainly promenade performance, in effect a trailer, is aimed at young audiences. It takes them back into the 1930s when Limehouse was still as recognizably London's Chinatown as Gerrard Street is today, but first it tells them about the Limehouse of the beginning of the century, as a young woman looks back to her grandmother's day and, to the sound of horses clopping down cobbled streets, shows them pictures of it then, photographs of things long gone though still remembered sometimes in the names of streets.
Splitting the audience into four groups (according to symbols on the dance tickets they have already been given) volunteer guides then take them around the imaginary streets of 1950s Limehouse, marked out in gaffer tape upon the performance area floor.
First call for my group was to drop in the Dance Academy of Daisy Hwang (Amanda Maud), now not so young but in the photograph she showed us from her earlier dancing days a looker, the image of Anna May Wong, star of all Hollywood films who she had actually met when she was over here working on an the English musical Piccadilly, which Miss Hwang was in back in the 1920s she4 is remembering..
Shedding her tippet-collared coat, she hitched her smart silk dress up a little to teach us all the Charleston, then paired us off to practice before our time was up and we moved on to Miss Irene Ho's Sunday Chinese School.
Miss Ho told us quite a lot about herself. She was the first woman to go to Hong Kong University and then came here, and in fact we really ought to call her Dr Ho because she got a PhD in London. She must be very clever but on Sundays she teaches Chinese and half-Chinese children to speak and read and write Chinese and we became part of her class.
Of course some, including a little one in the front row of desks, already knew some but by the end of class we all had started to count in Chinese and knew the some very important words and how to write their characters, though only those at the desk were able to do it using ink and brushes.
Our guide then led us down Limehouse Causeway with its shops and took us to meet Mr Ah Foo (Johnny Wong), a sailor. He seemed to have been everywhere, though, because he came from Singapore, he found it easier to "borrow" the papers of another seaman from Hong Kong.
He showed us his seamanship certificates, qualifying him to take charge of the ship's navigation, and showed us the ship's compass that he'd brought ashore and then taught us how to play a grown up game called Pukka Pu that you can make money at (or lose it) for it is a sort of gambling with cards a bit like Bingo. Of course we just played for fun, not money.
After that we went through the steamy Chinese Laundry, dodging the drying sheets in our imagination before suddenly it was time for us to hand in our dance tickets and end our trip round Limehouse at the Palais dancing the Charleston—the sailor and one of his friends did it much better than the rest so most of us stopped to watch them.
Jeremy Tiang's simple script, developed with the company under director Kumiko Mendl, is quite a simple exposition, carefully tailored for its young audience as it kept them and their older companions fully engaged for about 45 minutes. It could easily have gone on longer.
It is a very gentle introduction to the cultural past of London's Chinese community that is performed with sincerity and charm by all its cast aided by the enthusiastic participation of the voluntary guides. It is well worth being revived for other occasions and a splendid addition to this celebration of Chinese New Year.
How it will relate to Yellow Earth's summer production about Limehouse we can only wait and see.
Reviewer: Howard Loxton