A Dish of Tea with Dr Johnson
Adapted by Russell Barr, Ian Redford and Max Stafford-Clark from James Boswell's The Life of Samuel Johnson and The Journal of a Tour to the Hebrides
Out of Joint
Customs House, South Shields, and touring
(2011)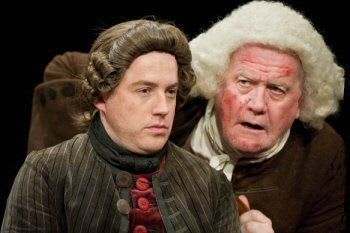 If I feel hesitant about reviewing this production, it has nothing whatsoever to do with the quality of the adaptation or the performances but everything to do with Johnson's description of a critic as "a species of dung beatle. A fellow who makes himself fat upon other men's droppings."
Spoken within the first minute or so of the production, that certainly provides a salutary warning for any hacks in the audience!
A Dish of Tea with Dr Johnson is the latest in Out of Joint's series of literary biographical works, the most recent being Andersen's English which toured last year. It covers similar ground to the 2002 production of A Laughing Matter which featured, as well as Johnson, David Garrick, Oliver Goldsmith and Joshua Reynolds who also appear, or are mentioned, here.
Ian Redford plays Johnson and, for most of the tour (of which more later), Russell Barr plays everyone else, male and female, from Flora MacDonald to King George III..
The play is essentially a portrait of Johnson, painted by his own words as recorded by Boswell or in his famous dictionary, and by conversations with others, from a member of his household, Mrs Anna Williams, through Goldsmith, Reynolds, MacDonald, the King, bookseller Edward Dilly, journalist and MP John Wilkes and Hester Thrale, with whom Johnson fell in love late in life.
The language, of course, is a delight, witty and clever, and the adapters have ensured that the transitions between scenes - or, perhaps, conversations would be a better word - flow smoothly. The almost metatheatrical nature of the production is signalled early with the arrival, in Boswell's arms, of Johnson's cat Hodge, played by Katie, a Jack Russell. The momentary surprise soon gives way to acceptance and prepares us for the constant shifts in time and place and the multiplicity of roles (signalled by changes in accent, body language and, minimally, costume) by Barr.
Inevitably these characters, Boswell aside, are not fully developed and rounded (although they are not cardboard cut-outs) for their function is to illuminate Johnson.
And what a character Johnson turns out to be. His physical size, the scars left by childhood scrofula and strong Staffordshire accent were at odds with his devout religious belief, his sensitivity and the depths of his knowledge and understanding of language and literature, and Redford captures the man exactly, arousing in the audience both sympathy and admiration. It's a fine performance, dominating the stage throughout the eighty minutes the play runs.
Barr has an entirely different but equally difficult task. We are to see in his performance not only the differences between the characters he portrays but the similarities which arise from the fact that they are primarily mediated through the words of his "lead" character, Boswell. And he succeeds superbly, aided, one suspects, by the carefully detailed direction which characterises all Max Stafford-Clark's work.
In the two South Shields performances only this two-hander becomes a three-hander with the addition of Trudie Styler as Mrs Thrale. There can be absolutely no quibbles about Styler's performance at all but I cannot help feeling that it was a mistake to bring in a woman to play the part. It changed the dynamic of the piece and created an imbalance, putting too great stress on Johnson's unrequited love, almost turning the piece into a love story. For the rest of the tour, the play reverts to being a two-hander.
"A Dish of Tea with Dr Johnson" tours to Ipswich High School for Girls, Dr Johnson's House (London), Maidenhead, Salisbury, Ashford, Wellingborough, Lichfield, Bath, Huddersfield, Middlesbrough, Leeds, Richmond (N. Yorks), Newcastle, Norwich, Milton Keynes, Welwyn Garden City, Oxford and Taunton. Some performances are already sold out.
Reviewer: Peter Lathan