Disney's Beauty and the Beast The Musical
Music by Alan Menken, lyrics by Howard Ashman and Tim Rice, book by Linda Woolverton
Disney Theatre Productions
Sunderland Empire
–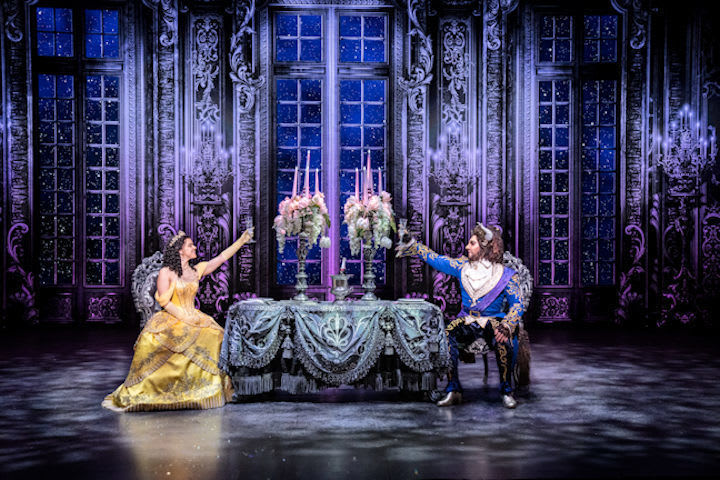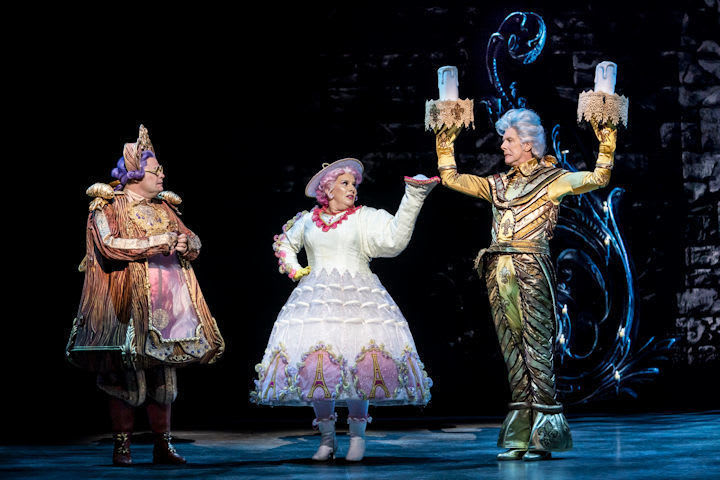 Back in 2005 I went, somewhat reluctantly, to the Empire to see the touring production of Beauty and the Beast and I ended up becoming, if not exactly an enthusiast, at least a fairly warm convert. Now it's over 17 years later and Disney brings what is described as a reimagined version of the show to Sunderland and this time there was no reluctance on my part.
In those intervening years, pandemic apart, the theatre landscape has changed massively, especially in terms of the technical resources available, and Disney has thrown enormous amounts of tech at this production. I think the only thing that isn't there is 3D video projection, which, to be honest, has become so inextricably linked with scary panto scenes so avoiding its use was, I think, a wise move. The one scene which you might imagine would have benefited, the wolves in the forest, was quite scary enough!
The tech brings sound and lighting effects right into the audience, embroiling us in the show's light- and soundscape. Gasps, squeals and shouts—from adults as much as from children—testify to their power. This really is quite a spectacular production.
But does the rest measure up?
Indeed it does. The dance routines (Matt West is both director and choreographer) are just as spectacular in their own way as the tech. In fact, the routine for "Be Our Guest", which filled the stage with high energy movement—from what seemed to be the entire company twice over!—had the audience cheering, shouting and whistling at the end. But then again, every musical number, solo or ensemble, was similarly greeted, although this one did seem to be everyone's favourite. Mine too!
I return to my oft-repeated assertion that we have, in the UK, musical theatre strength in real depth and this was proved unequivocally at this performance. I was mightily impressed by Belle and was absolutely stunned to discover today, when I opened the programme for the first time, that she was played in that performance, with outstanding confidence and élan, by understudy Grace Swaby. Not only that but two other parts were also played by understudies, Thomas Lee-Kidd as Cogsworth and Liam Buckland as Le Fou. If somebody had told me at the interval that all three were understudies, I would have laughed in their face.
The quality of all performances was so high, the talent, skill and energy of every single company member were so great, that the audience loved them all, even that arrogant so-and-so Gaston!
There was one fly in the ointment. As anyone who works with tech of any kind will tell you, the more complex the technology, the more chance there is of it going wrong, and so it was here. Some 5/10 minutes before the end, the show ground to a halt and a voice announced that there was a tech problem and asked our patience while they dealt with it. The audience accepted it good-humouredly and the announcement was repeated a few minutes later. Then, after another brief interval, the show restarted.
Then it ended, the curtain calls began and the audience reaction was wildly enthusiastic.
On my way home, the taxi driver asked what the show was like. I had only six words: "I was gobsmacked. It was brilliant."
And it takes a lot to elicit that kind of comment from this jaded old theatre hack!
Reviewer: Peter Lathan