Dispatches on the Red Dress
Words and music Rowan Rheingans, script Rowan Rheingans and Liam Hurley
Scottish Storytelling Centre
–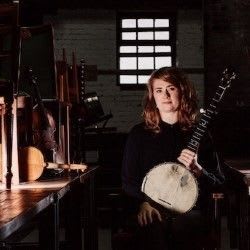 This is a personal show, one of family history and how it is shaped by the environment around it, a show of lovingly detailed descriptions and snapshots of moments in time. It's also a show about music; the script doesn't simply feature it, the original songs punctuate speeches and give the narrative support and breathing space.
Multitalented Rowan Rheingans doesn't just sing, she also works her way through a variety of instruments playing live and also using loop tracks. Soothing, soaring and heartfelt, they don't sit in any particular time period but still feel strangely familiar.
Rheingans shares memories, those of her German grandparents growing up during wartime and her own meditations on their village, retracing their steps, learning her heritage, drawing parallels between their lives. In one sequence, she imagines her English and German grandmothers attending their local dances while she twirls to the latest club beats, the rhythm echoing through time, connecting all three women.
With haunting music and detailed story, Dispatches on the Red Dress is gently told and clearly constructed with heart. There is a hesitancy about the show however that costs some of the potential theatrical punch.
Reviewer: Amy Yorston