The Wonderful World of Dissocia
Anthony Neilson
National Theatre of Scotland
Northern Stage, Newcastle
(2007)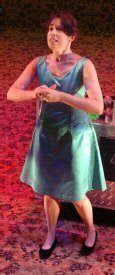 In his introduction to the Methuen edition of The Wonderful World of Dissocia, Anthony Neilson rejects the common association of his work with the In-Yer-Face school of theatre, saying that "it implies an attempt to repel an audience, which was never my aim." He prefers to call his work "experiential theatre", so that the audience "become, in some small way, participants rather than voyeurs."
In The Wonderful World of Dissocia he makes us both. In the first act we are drawn into the mind of the mentally disturbed Lisa Jones as she travels through the country of Dissocia, to which she is taken when her flat becomes a lift which takes her down, then sideways, then down again (with sound effects and lighting more reminscent of the Tube than a lift). There her mental state is reflected in a cascade of situations, characters and imagery which owe much to Alice and something to The Wizard of Oz. It's a world threatened by the Black Dog King who is only prevented from taking over because of the fact that its ruler, Queen Sarah, has gone into hiding and without her the Black Dog can only attack, not rule.
The parade of characters includes two in-security guards, a genuine scapegoat, an oath-taker, a professional victim and a grotesque parody of the attendees at the Mad Hatter's Tea Party - parodies of parodies. It's a world full of humour, a world in which Lisa, although threatened and often disorientated, is nonetheless happy. Then, at the end, The Black Dog King arrives. We are drawn in and share this world with Lisa: we are participants.
In the much shorter second half everything has changed. Lisa is in bed in a psychiatric unit in bare but non-threatening room. It is separated from us by huge perspex windows, requiring the actors to use radio microphones to be heard. The act is made up of a series of very short scenes, many of which simply see Lisa being given her medication by a series of nurses or visited by a series of doctors. Her sister visits and talk at her. Her partner visits and their relationship, heavily influenced by her mental state, is laid bare. Here we are voyeurs, right outside of the action: the scenes, in fact, are reminiscent of a succession of short sections of footage from a surveillance camera.
The play invites us to contrast Lisa's mental state when she stops taking her medication in act one with the reality of life on it, and, indeed, to sympathise with the Siren call of stopping again.
It's almost as far from In-Yer-Face as it's possible to get: Dissocia is not just a country in Lisa's mind and dissociated from the real world, it is, in terms of the play, dissociated from the second half, and putting the two together is an intellectual exercise - almost like one of those exam questions which ask us to "compare and contrast...".
No one could fault the performances (Christine Entwistle's Lisa is superb) or Neilson's direction, and Miriam Buether's design, Chahine Yavroyan's lighting and Nick Powell's sound add enormously to the effectiveness, but although it's a fascinating piece, it is difficult to connect with it on anything more than an intellectual level: the visceral isn't really there, except momentarily. As one young student couple said to me as we waited for the Metro afterwards, "It certainly makes you think."
Running at Northern Stage until 16th June, when the tour ends
This production was reviewed by Philip Fisher at the Royal Court and by Rachel Lynn Brody at the Traverse, Edinburgh
Reviewer: Peter Lathan