Distance
Alex McSweeney
Fine Line Productions in association with Rough Fiction and Park Theatre
Park Theatre (Park 90)
–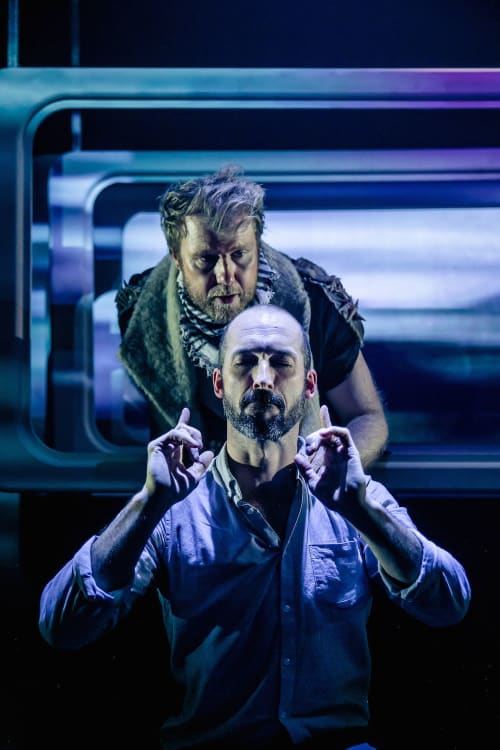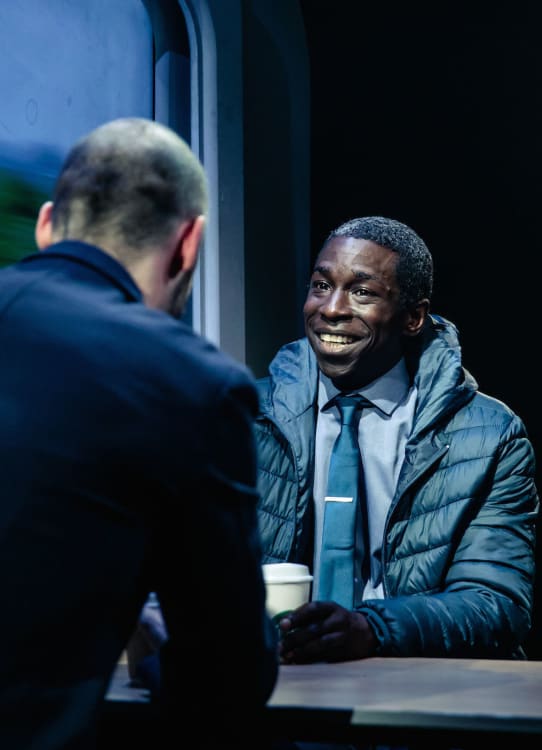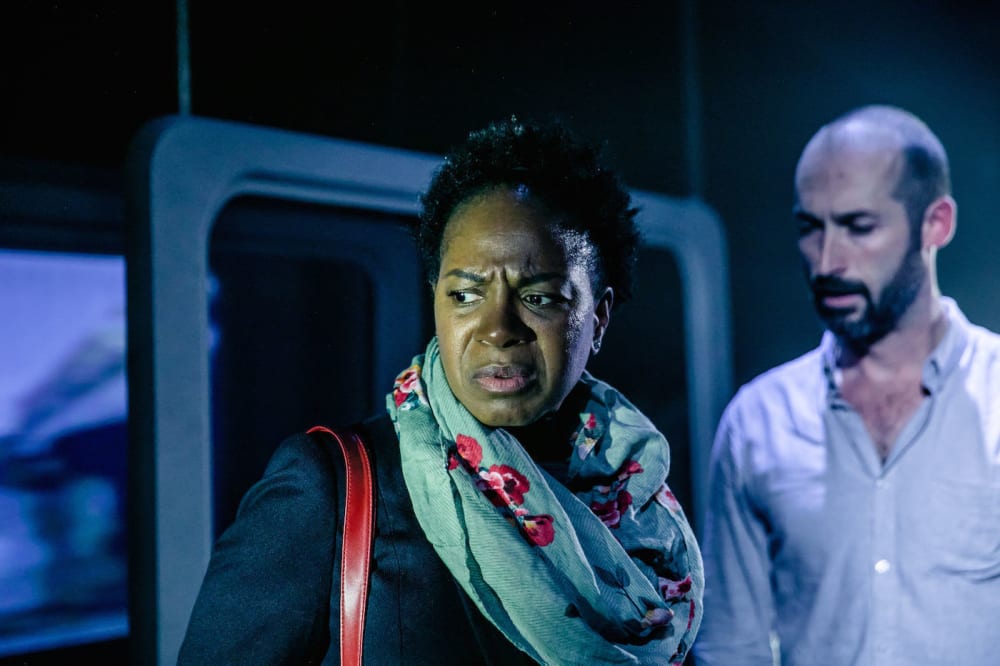 Alex Sweeney's play presents a man flailing to find some kind of equilibrium, seen first in a void, frantic and perhaps contemplating suicide. Recent statistics single out suicide as the biggest killer of men under 45 in the UK and McSweeney has personally known five who have killed themselves in as many years. It's a play to take seriously and is appropriately timed for September 10 is World Suicide Prevention Day.
Adam Burton as Steven presents a graphic visualization of the turmoil going on in his mind but to the world around him could pass as perfectly normal as he travels by train to a job interview and on the way meets an old colleague who turns out to be up for the same academic post. Steven seems confident, so much so that he offers help to less well-prepared Alan to improve the presentation that is part of the interview.
Though Steven may appear much more in control of things than Abdul Salis's easy-going Alan, it is Alan who gets Steven talking about the tough time he is having: recently separated, a difficult divorce ahead with a fight over access to his little boy and we see acted out what is worrying him in both past and present.
Lindsay Fraser plays Steven's wife Sonja, edgily confrontational. Doreene Blackstock is Polami, a well-meaning evangelist from whom Steven refuses help, and Richard Corgan is The Duke, a hippie drop-out barging in on Steven and Alan whose role is ambiguous: perhaps there to suggest another problematic way of handling stress.
This isn't an exploration of why Steven is mentally ill but a study of the effect it has on him and his family and those around him. Something going wrong in his marriage leads to suspected infidelities though Steven believes his behaviour innocent but the rift leaves him alone, angry and isolated.
Simon Pittman's production makes its point more through its staging than its dialogue. Bethany Wells's setting presents a series of frames that together form a railway carriage window but move to constrain and contain while the carriage seating and table are drawn apart and together to match the state of relationships, the distance between Steven and others repeatedly changing. It's an effective theatrical presentation of the attention that we offer others, the way we can close ourselves off and bottle up our problems.
Sweeney doesn't attempt to make Steven sympathetic. His public façade makes him seem so sure of himself, so capable compared with Alan's inadequacies. But it is Steven who is knotted up inside and needs help: the chance perhaps just to be listened to.
With its inventive staging and Ian William Galloway's video morphing from passing scenery beyond the train window to anguished reflections of internal feelings or what may be EEG brainwave patterns, this could seem too self-consciously clever, but its theatricality is engaging and captures the fluctuating state of Steven's mental health in a way that is very effective.
Reviewer: Howard Loxton