Distortion
Amanda Verlaque
The Mac, Belfast
The Mac, Belfast
–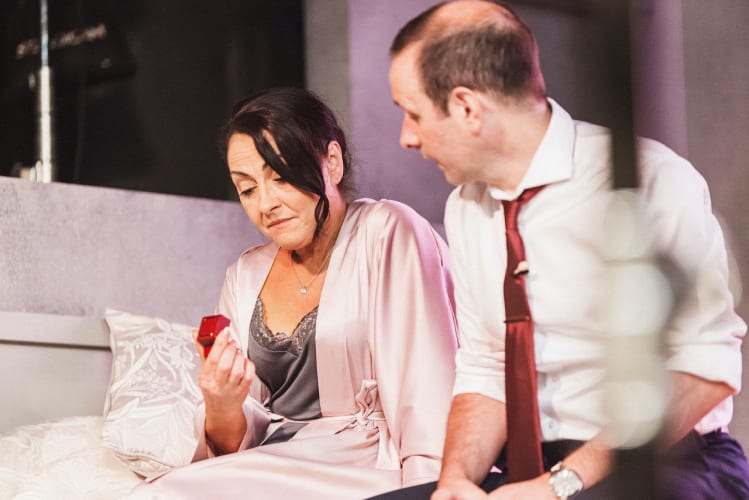 Amanda Verlaque's Distortion, streaming from Belfast's The Mac, takes caustic issue with the massaged duplicity and media-managed hypocrisy at the heart of contemporary Northern Irish politics.
In a world where public identity and private inclination are often at odds, face value and protests of virtue count for little, as Verlaque's steely prising open of a poisoned, deceit-ridden ménage à trois acutely, acidly reveals.
Politics and sex are never happy bedfellows, a truism the blighted trio, entangled in a web of their own devising, painfully discover. When a homosexual 'scandal' involving South Belfast's married sitting MP forces a by-election, Kevin—leader of the New Unionist Party and claiming fresh ideals but cast from the same fractured mould—seizes his opportunity.
Enter high-flying, openly lesbian PR strategist Jo, much to the chagrin of the party's deputy leader, Kevin's recently wed wife and award-winning businesswoman, Heather. What results rips apart the corrosive marriage of convenience and manufactured façade of political posturing to excoriating effect. The make-do sticking-plaster applied to the wound adds salt to the injury in Verlaque's gripping, pungently pointed and topical drama.
Michael Condron's Kevin is a weasel of a man, as contemptibly homophobic and misogynistic as those he wishes to usurp at the ballot box, but savvy enough to retaliate when sordid truth exposes the arranged fiction of his marriage. That he enlists a degree of sympathy at the end, which Verlaque's writing denies, points to a performance of telling nuance.
Mary Moulds's Heather is a calculating, closeted creature who knows when to roll the dice and when to cash her cards in. It's a dexterous, subtle but fiercely delivered portrayal of Machiavellian intrigue that seduces and repulses in equal measure in an articulate, sophisticated and knowing performance.
Caught in the contaminating epicentre of their self-serving scheming, Valene Kane's would-be mover-and-shaker, Jo, finds herself exploited as much as she seeks to exploit, Kane negotiating her descent from potential king-maker to shattered but defiant collateral damage with strength and grace.
Adroitly underplayed, Lata Sharma's TV reporter serves as a pointed interrogator of the polluted political shenanigans.
Verlaque's "hybrid theatre" claim for the piece is well served by director Rhiann Jeffrey's artful blending of stage and screen, coaxing studied, studio theatre-scale performances that blaze into often unsettling life in the close-up intimacy of the camera frame.
Ciaran Bagnall's discretely bleached, geometric silhouettes of a set, all straight lines and angles, adds its own telling commentary, as does Garth McConaghie's atmospheric, if occasionally too intrusive, music.
What results provides a pertinent commentary on corruption at the heart of a political system built on unashamedly naked self-serving agendas. Hard hitting and angry, Distortion sees Verlaque raise her game to produce an intelligent, intense and thrilling portrait of a political system slowly devouring itself from the inside. Highly recommended.
Reviewer: Michael Quinn