Divas
Joel Samuels
Fine Mess Theatre
Pleasance Dome
–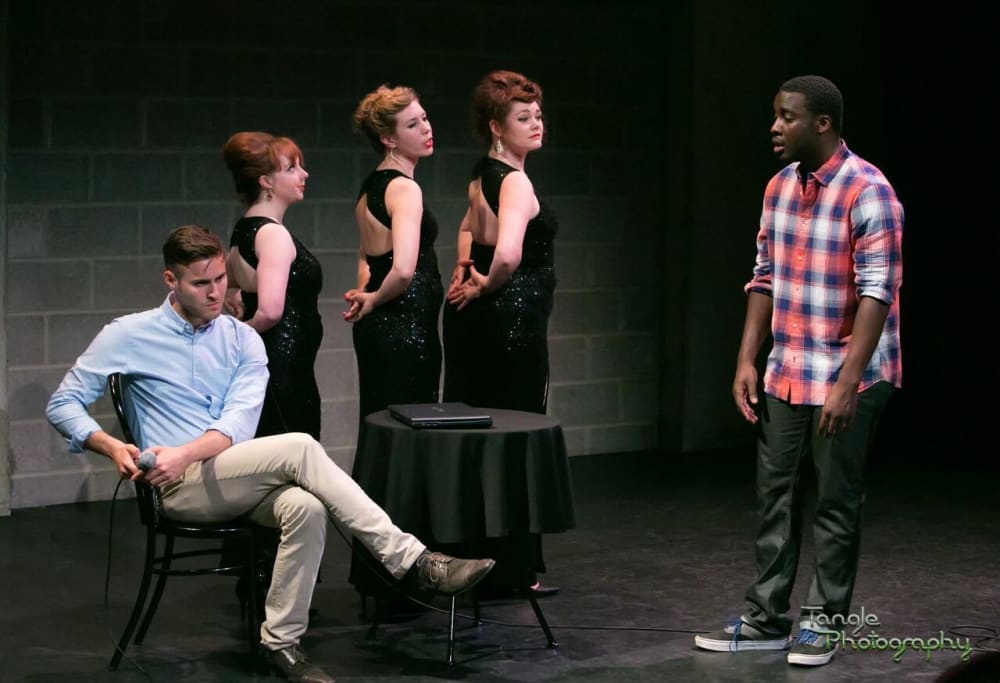 Fine Mess Theatre has given us exactly that in its world première production of Divas at the Pleasance Dome... a fine yet somewhat messy theatrical experience.
The production maps the relationship between prolific liar Damien (Daniel Ward) and recruitment worker Adam (Joel Samuels) with the audience being taken on two simultaneous journeys: one with Damien, from his initial meeting with Adam onwards, and the other with Adam, beginning at the break-up and moving backwards through the relationship.
The emotional voyage that the pair go on as Damien works to create a new identity to fit in with Adam's corporate lifestyle is both hard-hitting and agonising to watch. Samuels's script is eloquent and exciting and it will be difficult to find a better one in Edinburgh this summer. However, clumsy staging mars this well-worded masterpiece.
The use of three sparkly clad doo-wop girls to act as transitional singers and the second voice of absent parties takes away any sincerity that is held within the writing. Their lack of stage presence results in the audience forming distrust for the three ladies and their nonchalant lack of personality at times is hard to watch. Their musicality, although necessary for the arc of the story, makes the production feel more like a cruise ship than a gripping piece of true-to-life theatre.
The choice of title, Divas, is somewhat intriguing as it almost feels that this element of the text has been pushed into the storyline for musical effect. There is mention of the couple bonding over the music of divas such as Dusty Springfield and Dolly Parton but this aspect seems so irrelevant to the story that it adds very little to the moral and meanings behind the performance.
The word Diva certainly conjures up connotations of grandeur and fabulousness but these adjectives don't really encapsulate the emotion of this piece at all. This is a frank and honest spoken word play about the ups and downs of a failed relationship, not a cabaret or upbeat drag show.
As a concept, Divas is pulled off to a high standard and the two lead actors can be applauded for their impressive characterisations and gripping performances. Writer Joel Samuels is certainly a name to look out for in months and years to come.
Reviewer: Liam Blain