Do I Love You!
John Godber
John Godber Company
Grand Theatre Studio, Blackpool
–

Listing details and ticket info...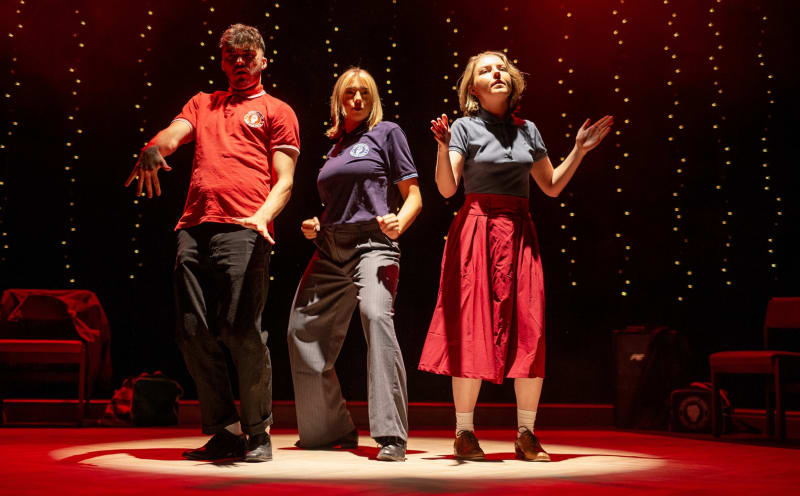 A play that might hark back to a glorious past, but has a lot to say about a less-than-splendid present.
It takes its title from the classic Frank Wilson Northern Soul song and wraps a warm-hearted story around three modern-day friends from Hull as they prepare for an odyssey towards Blackpool Tower Ballroom for a weekend soulies reunion. The trio's real-time dreams and ambitions having been thwarted by a post-COVID age of interrupted education, cost of living crisis and scarcity of meaningful work, they come across a dance floor full of pirouetting pensioners—at an all-nighter in Cleethorpes—and witness a transcendental experience, as you would.
It's another little dramatic gem from the pen of John Godber and sits well among his more recent 'state of the nation' output. At heart, Do I Love You? mourns the loss of community. In that respect, it's far more effective than Mick Martin's Once Upon a Time in Wigan, a similar rites of passage drama.
Godber's Sally, Nat and Kyle represent a Lost Generation that, despite their degrees, are rewarded with nothing more than fast food jobs in a gig economy. Played by Emilio Encinoso-Gil, Martha Godber (the playwright's daughter) and newcomer Chloe McDonald, they occasionally break out of character to become a granny whose life is fading as fast as her memories of love on the dance floor, or 'Keef' a spaced-out 60-something soulie whose manifesto speech on the music's significance is almost a modern-day Agincourt call to arms!
All three performances are brimful of the honesty and authenticity their characters are seeking from life. They can also cut some mean shapes on the dance floor.
It's fair to say a near capacity first-night audience have largely brought along their own memories of Wigan Casino and elsewhere, and their nudges and knowing looks at the feast of floor-filler anthems that punctuate the story becomes part of the drama's added charm.
They rightly award it a rousing reception, and you suspect those theatregoers quickly on their feet would need little urging to join in the dancing.
Do I Love You? Indeed they do...
Reviewer: David Upton