Doctor Faustus
Christopher Marlowe
Chickenshed
Chickenshed
–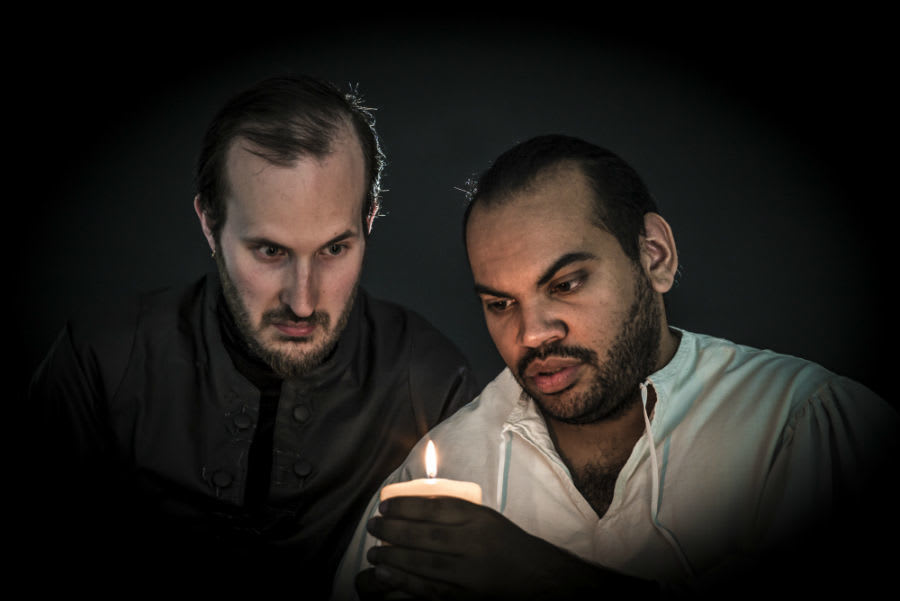 The Chickenshed bar suddenly became a performing space of bright singers and musicians who after a few minutes led us to the traverse studio where piles of ancient books were stacked for Marlowe's Doctor Faustus.
That wasn't the only unusual element of the show, but first needs to be noted the success of Ashley Driver as Faustus in delivering "Marlowe's mighty lines" with clarity, warmth, and very occasionally a touch of humour.
He strides about the theatre restless with the world as it is and willing to sell his soul in exchange for the power to fulfil his desires.
He ignores the warnings of others including the Devil's agent Mephistophiles who says, "oh, Faustus, leave these frivolous demands, which strikes a terror to my fainting soul".
Paul Harris gives a strong performance as the sinister Mephistophiles speaking with an engaging clarity.
There are few among us who would not have been deterred from Faustus's dreadful step by Harris's stern voice and manner.
But then Marlowe provides in Faustus a character that reflects a society where expectations for some were being raised by new inventions, changing conventions and a greater variety of goods. Never mind the risk that might involve.
There is a romantic hope expressed not only in the yearning for what the supernatural powers may bring but also in the poetic rhythm of the language. Things should be better and for Marlowe and Faustus if that means dumping God and embracing the new then why not.
There is a good supporting cast and various novel elements to the show. Two giant puppets make an appearance along with the voice of Derek Jacobi, and one section of the play is performed as rap by a visiting devil.
This is an enjoyable production that takes the play very seriously.
Faustus does very little with his side of the Devil's bargain beyond some cheap party tricks of flying objects around the Pope (Will Laurence) and providing a bunch of grapes for the Empress (Elvana Love)
It is a pessimistic vision of the new world opening up in his time. As far as he was concerned, it could be Hell.
Reviewer: Keith Mckenna