Doctor Faustus
Christopher Marlowe and Colin Teevan
West Yorkshire Playhouse and Citizens Theatre
The Quarry, West Yorkshire Playhouse
–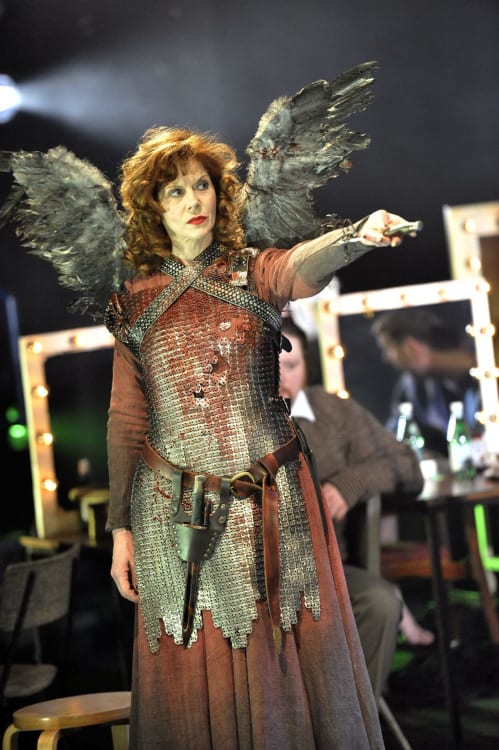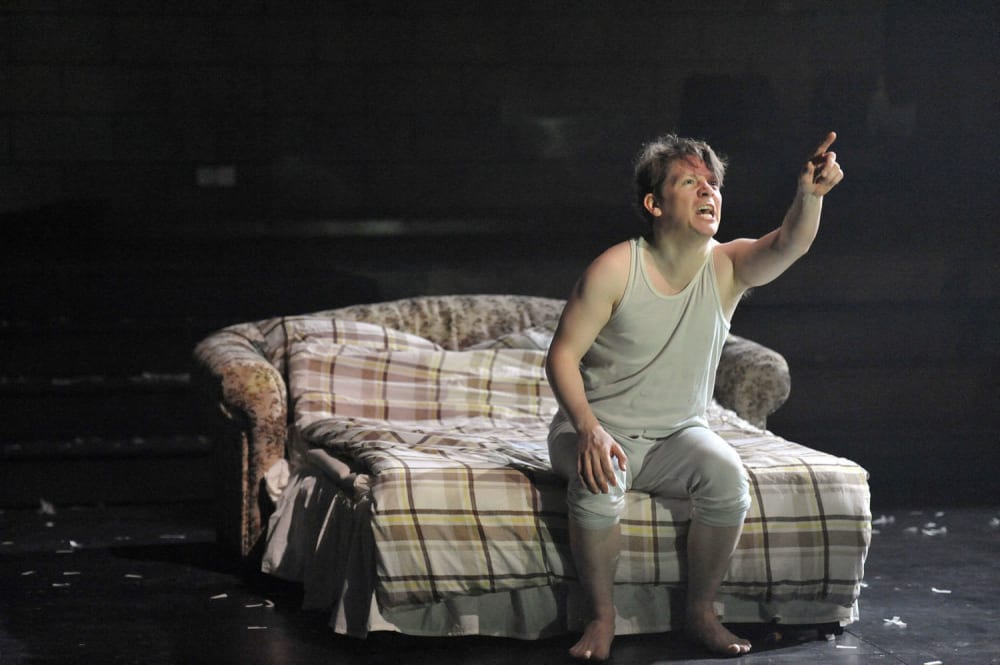 It is with immense pleasure that I can announce that I found this production ambitious, captivating, stimulating and funny. And this is a delightful antidote to the travesty that was Imitating the Dog's Zero Hour, on at the Playhouse last week, which eschewed entertainment in favour of pretension.
So, Doctor Faustus. Colin Teevan has given us the first and last act of Kit Marlowe's The Tragicall History of Dr Faustus and inserted his own anachronistic take on the body of the play. The whole is played on a set which fills the huge Quarry stage.
To see the stage used in this way is itself a great treat. To left and right are dressing rooms, chairs, tables and those light bulb bedecked mirrors that scream 'theatre!' and are beloved by actors and audience alike. Centre stage is a double sofa bed. We also have tv sets, dress rails, a toilet cabin, some decking, etc. It's a big stage and this scatter does suggest a sort of 'bittiness' that somehow, and not always to advantage, patterns the production itself. We are not always sure exactly where and when we are. But this is a minor weakness.
The story is probably more referred to than read. Young Faustus, a European Intellectual seeking enlightenment and fulfilment, does a deal with Lucifer. In exchange for his soul, Faustus will have the services of Lucifer's servant Mephistopheles—provider of knowledge, wealth, power, sex... whatever. In this version Faustus strides the world as a libertine celebrity conjurer, aided of course by Mephistopheles. The set represents, in the main, back stage at a performance.
Faustus finds the satisfactions sought, when experienced, to be shallow, rancid. Ever deeper he goes, as all hope of redemption dwindles. When he faces his final doom it is represented by a sonorous crack and a cut to black. After all the colourful business (conjury, music, dance, debauchery) the end is truly ominous. When the lights come up there is a rapturous audience response. It's a show for everyone, but the young people in this full house were particularly vocal.
And rightly so. Kevin Trainor (Faustus) and Siobhan Redmond (Mephistopheles) give us a joyful, memorable double act: energetic Ronnie Corbett meets a statuesque Bela Lugosi. Like all great comic duos, they play it straight and let us see the humour.
If only Siobhan Redmond (whose stage presence is superb) could make us feel the full despair of her character, once a joyful innocent, now condemned to eternity in hell, this would be a truly great production. Perhaps as the unavoidably ramshackle complexity of the play as a whole settles, she will make some dramatic breakthrough. The words are there, but for now the production gets in the way.
But I am nit-picking. It is a fine, accessible, production, beautifully cast and intricately yet energetically directed. The stage is rich in admirable performances, doubling / tripling, mask- wearing and cross-dressing. Props are a delight, sound, music and lighting do the trick. And the 'magic' tricks themselves are good enough to get the odd round of applauds.
In passing, a word of praise for movement director Kally Lloyd-Jones. At times Kevin Trainor's Faustus seems to glide through the air. And the central sado-masochistic coupling of Faustus must be one of the most energetic, shambolic shags ever to grace the stage. It ends with a surprise. I say no more. You will like it!
At the heart of all this bread and circus is a universal story, as deep, fresh and relevant today as when it was first told, centuries before Marlowe wrote his version. If we sup with the Devil, we must take a long spoon. The text and production are near perfection. I think I shall pay a return visit.
Note also that the production moves to Glasgow for performances at Citizens Theatre 5th to 27th April.
Reviewer: Ray Brown