Doctors of Philosophy by Muriel Spark: A Theatrical Performance
Muriel Spark, edited by David Greig and Marilyn Imrie
Edinburgh International Book Festival and Royal Lyceum Theatre, Edinburgh
Edinburgh International Book Festival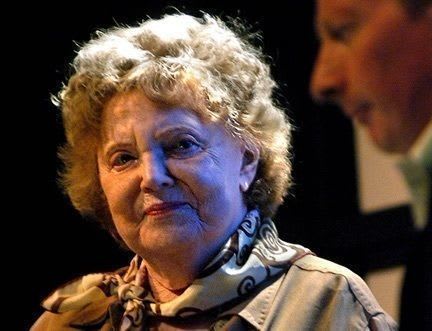 This event falls into two different strands within this year's Book Festival: the Muriel Spark centenary (one of the venues has been renamed the Spark Theatre and moved into George Street) and the Playing With Books series of events, although this was originally written for the stage—it was Spark's only play—rather than for publication.
The play was not a success when it premièred in London in 1962 but has now been edited by Lyceum Theatre artistic director David Greig and director Marilyn Imrie with an eye on a possible future full production at the Lyceum. It has been given an unusually long slot at the Festival of 2½ hours and even an interval, which seemed quite odd at the Book Festival; no one really knew what to do during it.
It also has a very impressive cast of nine actors for this script-in-hand reading, who certainly know how to deliver Spark's sparklingly witty dialogue.
The Doctors of Philosopher of the title are, well, most of the characters, who introduce themselves at the start and what their PhDs are in. The main plot is between Catherine Delfont (Maureen Beattie) and her cousin Leonora (Sally Reid): Catherine gave up her budding academic career to get married to dull economist Charlie (Stuart McQuarrie) and have a family and now teaches in a school; Leonora remained single and has kept her academic career. They sneer at one another for what the other has missing from her life, while secretly jealous of what the other has.
The plot complicates as Catherine's daughter Daphne (Lois Chimimba), a PhD student, may or may not be marrying Charlie number 2 (Buchan Lennon), but becomes rather friendly with another Charlie (Okorie Chukwa, who also plays the scenery). With Annie Wood, a non-academic know-it-all, and Young Charlie's strait-laced mother (Hilary Lyon) thrown into the mix, it takes housekeeper Mrs S (Elaine C Smith) to keep track of exactly what is going on.
The Wildean wit (I heard someone in the audience mention Coward, but it's better than that) crackles through the dialogue with savagely hilarious attacks on academics and the middle classes and a plot that also doesn't throw a particularly sympathetic light on the leading lights of academia. Spark toys with the form of the drama as much as she did with the novel, with a few metatheatrical touches.
The plot did seem to get rather tangled up in itself later on—I certainly got a bit confused. It looked as though the piece hadn't had much rehearsal, unsurprising for a one-off reading of this length, and so, despite the amazing cast, there were times when the actors didn't seem sure what was to happen next so the pace and delivery suffered. Of course this is to be expected due to the nature of the event, but it does mean they are bound to lose the audience from time to time over 2½ hours.
However, this was certainly a worthwhile experiment that I think indicates that it is definitely worth pursuing the idea of a full stage production.
Reviewer: David Chadderton