Does My Society Look Big In This?
By Stephen Brown, Tom Morris and the Wild Oats Company
Bristol Old Vic Productions
Bristol Old Vic
–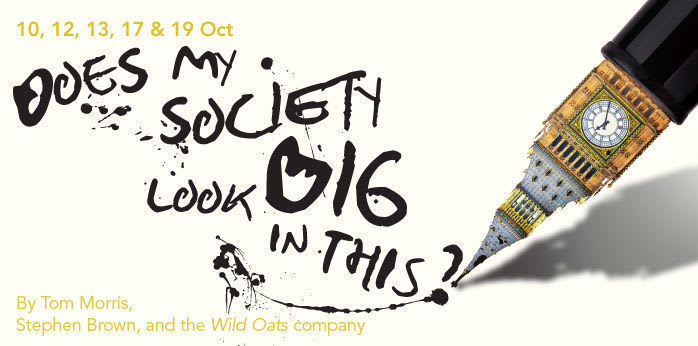 How's this for an idea: what if everyone in society gave away a little bit of what they earned every month to be collected by some "local hero"? A Robin Hood figure, who would hand it out to be used for all the important stuff, like schools, roads and hospitals? We could call him, "The Tax Man".
"Everyone would love the Tax Man"—wouldn't they?
It's a moment of inspiration which moves the cast of Does My Society Look Big In This to song in the opening moments of this devised show, directed by Tom Morris. It's a perfectly-pitched scene: witty, well-staged and brilliantly executed.
The same can be said of other moments in the show. The spine of the piece, for example, is a whimsical musical rendition of the results of a survey of the people of Bristol, carried out by the cast over the course of their rehearsal period. The survey attempted to get to the heart of how strong a sense of community exists in the city. To deliver it musically is a beautifully silly concept and a remarkably effective one.
The show is also peppered with minor narratives, all of which are as enticing as they are pertinent to Bristol. The Stokes Croft riots of 2011, under-pinned with verbatim text; the father and son, unable to come to terms with the latter's desire to study Contemporary Dance, and the former's wish to fund nothing but a Law degree. A Somali woman, all alone in the city and worrying about the knife she found in her young brother's schoolbag.
These are moments of light in what at other times descends into fog.
We are told from the start that what we are about to see is both "experimental" and "rough". It certainly leaves you with the sense that with another couple of weeks in a rehearsal room, the show would have been honed into something really quite remarkable: all the ingredients are there. But in its present state, it's an hour too long, there are issues with pace and too many sections serve little or no function.
We were asked to nominate audience members who would then stand for election as Mayor of the Theatre for the day. Candidates were to come up with a platform and pitch to the voting audience from the stage and during the interval, after which a ballot took place. The segment engendered genuine (and sometimes heated) debate from the audience on issues such as education and transport in the city. Although thought-provoking, it was also very much at odds with the piece of theatre, draped awkwardly around its shoulders.
While some audience members were animated by this, swept up with the debate, there were as many others who appeared visibly uncomfortable; after the interval there were several extra empty seats in the Pit.
All of which is a great shame: this is an extraordinarily talented cast, the same cast who are currently running with Wild Oats. And the piece they have devised is often enlightening, politically relevant, intriguing and often very funny. It is undoubtedly unlike anything an audience would have been exposed to on a main house stage before.
But what lingers is the sense that this a piece still very much "in development": consistently well-executed theatre, however "experimental" it may be, isn't supposed to feel quite this rough.
Reviewer: Allison Vale