The Dog in the Manger
Lope de Vega in a new translation by David Johnston
Swan, Stratford
(2004)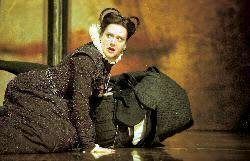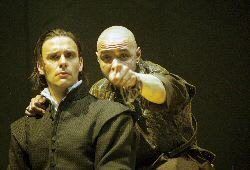 While William Shakespeare was captivating audiences in London, there was a similar theatrical movement gathering pace in Spain about which we are only now beginning to discover.
We know of course about some of the outstanding 17th century works which emanated from Spain, including Cervantes' Don Quixote which is regarded by some people who've actually managed to read all of it as the greatest tome the world has ever seen.
But many of the plays which were staged night after night at the Corral de la Crux and the Corral del Principe in Madrid have rarely been presented for British audiences.
The Royal Shakespeare Company are aiming to put that right with a quartet of plays called The Spanish Golden Age which are being presented in the Swan until the beginning of October.
Spanish playwrights in the 17th century wrote about the same themes as Shakespeare: for instance seduction, honour and revenge. But on the evidence of The Dog in the Manger, that's where the similarity ends. The Bard is revered so much that to change his language is considered sacrilege. There are no such reservations about tampering with Lope de Vega's work.
David Johnston modestly states that he intervened less in the finished version of The Dog in the Manger than was necessary or desirable in other translations he has written. But as well as producing a crisp, witty, funny and lively script, Johnston includes one-liners which would have been all Greek to Lope.
This is undeniably not Shakespeare: the language is easy to understand and sounds modern. It doesn't have the richness nor the depth of the Bard's works but it has a more universal appeal.
The Dog in the Manger is set in Naples in the court of Countess Diana. She's a beautiful, headstrong woman who has aristocratic suitors acting like lapdogs in their attempts to marry her but she refuses all offers.
One night she discovers her male secretary seducing her favourite lady-in-waiting and is overcome with jealousy. But will she wed someone from a lower social standing? You're never sure who's in love with whom and which relationships will survive the comedic lies and deceit.
Rebecca Johnson is excellent as Diana, ruthless when she wants her own way, callous towards anyone who might affect her happiness, yet vulnerable when she realises her true feelings for secretary Teodoro.
Clare Cox is a fine Marcela, the downtrodden lady-in-waiting who incurs the wrath of both her mistress and her lover. The fact that Lope includes two very strong female characters in this play may have something to do with Spanish theatres' flouting a 17th century ban on women being allowed on stage.
Reviewer: Steve Orme