The Dog in a Manger
Lope de Vega in a new translation by David Johnston
Royal Shakespeare Company Newcastle Season
People's Theatre, Newcastle
(2004)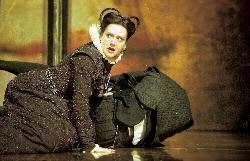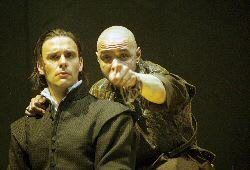 What an absolute joy this production is!
I don't know why, but for some reason I have never associated Spanish theatre with comedy, which is rather odd because one of the greatest comic creations of all time, Don Quixote, is Spanish. I suppose it's purely a personal quirk, but on the basis of this production, I shan't make that mistake again - and I want more, more more!
The Countess Diana rejects her aristocratic suitors (shades of Olivia in Twelfth Night) but one night, discovering her handsome secretary Teodoro seducing one of her ladies in waiting, she falls madly in love and jealousy rears its ugly head. And so the story starts.
It could have turned into an Hispanic Duchess of Malfi but goes in the opposite direction and becomes a real comedy, with elements, in fact, of farce. There were moments when it might even have turned into a Twelfth Night: at one moment, indeed, the black-clad Teodoro reminded one irresistibly of Malvolio telling himself "My lady loves me"!
It is a tale of forbidden love, forbidden because of their difference in station: both are aware of it, and both fight against it, and the plot thickens and becomes complex and involved. And we, the audience, laugh.
Actually, we don't only laugh: we join in, too, cheering and booing, responding loud and long. This wasn't (just) the rough Northern audience (will I ever be able to show my face in a NE theatre again?), but we were encouraged to do so - indeed, it was insisted on in a kind of scene-setting prelude which had the audience at first a little puzzled, then a little embarrassed, and finally enthusiastically joining in. When we were told to declare undying love for the person sitting next to us and horror novelist Chaz Benchley turned to me and said, "I don't know how to tell you this, Peter..." I did begin to wonder what we were letting ourselves in for!
It set the tone. The "prelude" began at 7.30 and the show came down at 10.45 and it seemed like no time at all. What greater compliment can you pay to a performance than that?
The performances were excellent: Rebecca Johnson at Diana and Joseph Millson as Teodoro were all you could expect them to be, but undoubtedly the audience's favourite was Simon Trinder as Teodoro's servant Tristan. His Scouse Greek from "Popadopolis" (with a sister called Souvlaki) was simply hilarious. Last year he was good: this year he has matured into a exceptionally fine comic actor.
Whether de Vega would have recognised his play I really don't know and I don't really think it matters. Director Laurence Boswell has taken a play which is completely unknown in this country and, with his very talented cast, turned it into an excellent evening's entertainment, helped in no small measure by Es Devlin's sets and costumes and Ben Ormerod's subtle lighting.
Steve Orme reviewed the Stratford production of "Dog in a Manger" and Philip Fisher saw it at the Playhouse Theatre, London
Reviewer: Peter Lathan