Dogs Don't Do Ballet
Based on the book by Anna Kemp illustrated by Sara Ogilvie, adapted for the stage by David Duffy and Andrea Sadler
Little Angel Theatre
–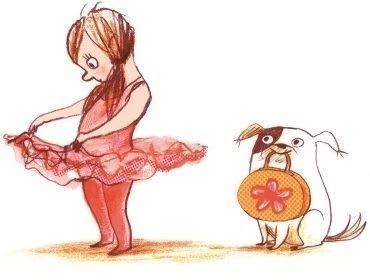 Aimed at the tots, the 2-6 year-olds, this is a delightfully simple story about a little girl and her dog.
It starts with ballet mistress Miss Polly getting the place ready for her dance class, getting rid of the jumble sale banner and tidying away some left over cuddly toys. She's played by Ronnie Le Drew in a red poncho and a dashing hat as an ageing, very proper person. It is a child's eye view of a fussy lady. Grown-ups can be very odd can't they? Her prize pupil is little Anna and the story is really about Anna and Biff, her dog. He is a chunky little fellow with a white coat and a black patch over one eye and he's no ordinary dog.
Anna tells us he doesn't pee on lampposts, scratch for fleas of run after sticks like other dogs. He likes music and moonlight and walking on tiptoes. He doesn't think he's a dog: he thinks he's a ballerina!
Anna is a puppet; so is Biff but Andrea Sadler provides her voice (as well as putting on a flat cap and playing her father). She and Ronnie operate the all the puppets, play other humans and arrange Tim Sykes's simple but effective scenery.
Biff tries to go to ballet class but the ballet mistress won't have him in. She says, "dogs don't dance!" However, we do see Anna and her friends having their lesson and doing their exercises at the barre and even get to join in doing all the arm positions from our seats.
Miss Bonnet takes a lot of pleasing and the poor accompanist on the piano has almost as difficult a time as the pupils, but they all enjoy it really. So does Biff when he gets the chance to dance at home. He even steals Anna's pink tutu.
When Anna goes to Covent Garden to see the Royal Ballet, Miss Bonnet is most surprised to find another of her pupils selling ice cream, but there's an even bigger surprise in store for Anna. It is not just the famous ballerina she expected.
With a delightful selection of popular ballet music played by Alex Carter on piano or recorded as part of Reuben Cornell's sound design, there are lots of favourite tunes to recognize and some lovely puppets designed and made by Keith Frederick, including a line of toe-pointing young ladies doing their barre work.
Biff isn't exactly a great dancer but parents may see some similarity with other beginners and the young audience with whom I saw it thought he was lovely. It wasn't just the little girls who got caught up in being ballerinas, the boys also joined in with enthusiasm. They didn't need the story's gentle message that it doesn't matter who you are, where you come from, boy or girl or dog, those things shouldn't compartmentalise you.
Both live characters and puppet ones are delightfully played by the two puppeteers / performers under David Duffy's direction. You wouldn't guess it is his first time as director, though he has been technical manager at this theatre for some years. With a little daughter of his own who goes to ballet class, he knows the territory and has obviously absorbed a lot of knowledge about how a puppet show comes together.
This adaptation stays true to the original book but I hope the small boys in the audience will soon discover that you don't have to go on pointe and wear a tutu to be a dancer. Biff is a boy dog. How about a sequel with a dog in tights and Corsaire instead of Swan Lake?
Reviewer: Howard Loxton