Dogs of Europe
Devised by Nicolai Khalezin and Natalia Kaliada from a novel by Alhierd Bacharevic
Belarus Free Theatre
Barbican Centre
–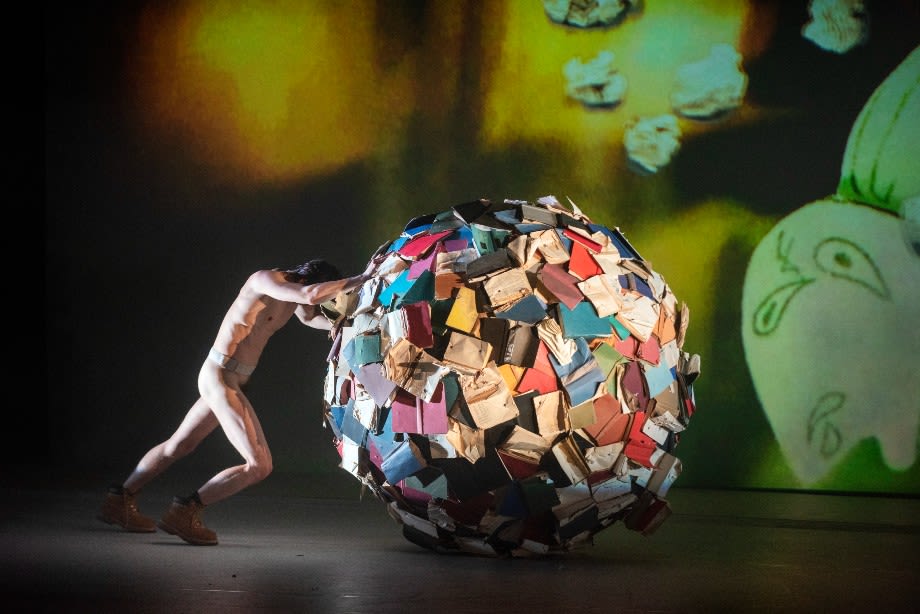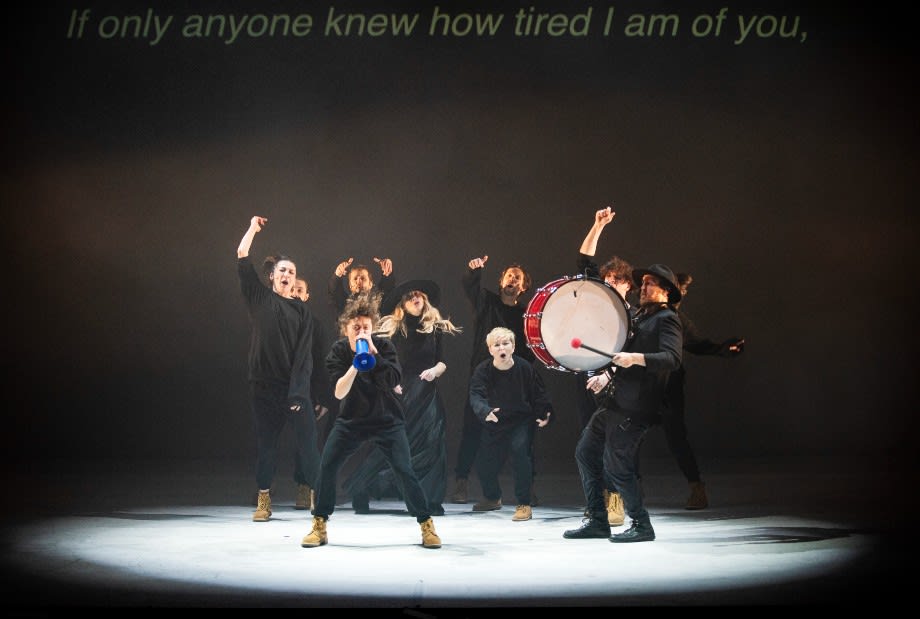 There's no easy to follow storyline but plenty of puzzling scenes in Dogs of Europe. A naked man spends the entire interval running around the stage. The same man appears a number of times pushing a huge globe of books. He is grabbed by a gang who kill him on top of the globe. He is just one of a number of characters that are killed during the performance. A crowd of people dressed in black arrive burning books.
This bleak adaptation of Alhierd Bacharevic's novel Dogs of Europe imagines a future repressive Russian Reich that has gobbled up much of Asia and Central Europe. In the first section of this epic, two hundred and ten-minute show, a young lad meets a woman spy who arrives by parachute.
Some sort of official carrying a bag of goose feathers takes the lad under his wing as he praises the value of being a 'village cop'. In the second section, the actor who played the boy becomes the detective Skima investigating the dead body of a poet found in a hotel in the year 2049 with a book and a goose feather among his belongings. This leads him to visit lots of bookshops which by that time are going out of existence (possibly because people keep burning books).
The show takes place against a full back screen projection of assorted visually striking graphics, rural scenes and buildings. There is occasional humour, a good deal of music and plenty of dancing.
Perhaps it's an elusive allegory about individual and regime repression. It's hard to say. But there's a clarity to the message emblazoned above the company taking the stage with a banner at the end of the show. It reads, "where the books were burned, in time people will burn". The banner they carried said, "Belarus Free Theatre stands with Ukraine".
Reviewer: Keith Mckenna