A Doll's House
Henrik Ibsen, translated by Christopher Hampton
West Yorkshire Playhouse, Leeds
(2005)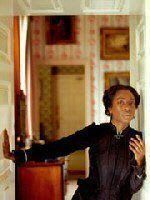 Reduced to the bare bones of its plot, A Doll's House sounds like just another Victorian melodrama. Devoted but featherbrained wife Nora borrows money without her husband's knowledge, forges her dead father's signature and ends up being blackmailed by one of her husband's former employees; as a result of the ensuing scandal she walks out on her family, never to see her three beloved children again. It comes as something of a surprise to discover that the play is based on events in the life of Ibsen's friend Laura Petersen, whose husband committed her to a lunatic asylum when she suffered a nervous breakdown. There, however, the resemblance ends - Laura's husband eventually took her back but Nora faces a harsh future in the unforgiving world of nineteenth century Norway.
Nora is played by the charismatic Tanya Moodie, not an actress one associates with put-upon domestic drudges. When she bustled onto Peter McKintosh's claustrophobic drawing room set, her arms full of Christmas presents and her heart full of joy at the prospect of her family's new-found financial security, I couldn't help feeling that she was being too assertive too soon. But this early glimpse of Nora's real self pays dividends when we see her with husband Torvald, a man who obviously believes that "women are but children of a larger growth". Nora is his "songbird", his "squirrel" and a host of other infantile pet names. There is something truly flesh-crawling about Nora's acquiescence in all this - Moodie jumps up and down and takes little bunny-hopping steps like a five year old - and for the first time I found myself wondering what her fate would have been had her hand not been forced by Krogstad's blackmail. Years of being forced to behave like a child would be enough to drive any woman to a nervous breakdown
Under the direction of Matthew Lloyd (who took over from an indisposed Ian Brown at short notice) the play moves at a rapid pace to its ground-breaking conclusion, with Nora forsaking her cosy but suffocating nest and walking out into the blizzard. Moodie inevitably dominates the stage but an excellent cast ensure that all the characters are fully rounded. Torvald (John Lightbody) is no domestic tyrant but an upright, responsible but hopelessly unimaginative pillar of society. Krogstad (a scene-stealing Michael Matus) has been reduced to money-lending after being dismissed from his job for forgery, which as he reminds Nora is exactly the same crime she has committed. There is a touching performance by Sarah Tansey as Nora's old school friend Mrs Linde, a childless widow reduced to poverty by her husband's death; her loneliness and total dependence on the charity of others foreshadows Nora's eventual fate.
Almost 130 years after A Doll's House scandalized playgoers in Norway the play still has the power to move audiences, and this is a first-rate revival.
At the West Yorkshire Playhouse until 19th March
Reviewer: J. D. Atkinson