A Doll's House
Henrik Ibsen in a new translation by Stephen Mulrine
A Theatre Royal, Bath, production
Rose, Kingston upon Thames
(2008)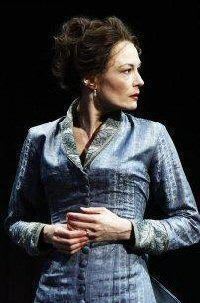 When this production opened at the Theatre Royal Bath in July it played the matinee half of a double bill, overshadowed by the evening premiere performance of Nicki Frei's adaptation of Henry James's The Portrait of a Lady.
Sharing cast members these two plays linked together made for a long day of drama focusing on the theme of troubled marriages, an impression reflected in the national reviews. But Kingston audiences, who have already seen the touring version of the Jamesian play, now have the benefit of a cast coming freshly to the Ibsen after a break of more than a month.
The chief physical change is the new thrust staging of Simon Higlett's box set, now reaching out into the auditorium with a 'four-poster bed' arrangement that embraces the sparsely furnished drawing room of the Helmer's apartment, its walls pierced by three practical door entrances each given dramatic significance in Peter Hall's superbly blocked staging.
The room is backed by a gauze 'wallpaper and dado' drop that gives us telling glimpses of the entrance hall and the arrival and departure of various characters — an effect achieved by Peter Mumford's unobtrusive lighting design.
Catherine McCormack as Nora Helmer is seldom off-stage in an almost three-hour marathon performance that rivals Hamlet for its psychic intensity — indeed she is the first Nora in nearly 30 years to erase my memory of the 'benchmark' RSC Nora of Cheryl Campbell.
Several Bath reviewers thought her fluttering hand and arm movements, (apparently reflecting Torvald Helmer's affectionate description of his wife as a little bird) were an overdone mannerism. But these now first suggest a pretty woman entirely secure in her feminine role then, as the drama develops, her growing sense of entrapment and hysteria, a change of emphasis made clear by change of pace and body language.
Finally these gestures are stilled as, in a change of dress from the tarantella costume to a striking two-piece suit in flame orange, she prepares to make her famous exit from the imprisonment of a failed marriage into a dangerous world of new opportunities.
Finbar Lynch as Torvald also gives the role a wholly fresh interpretation. No mere pompous paterfamilias with a token pretty wife and an overblown sense of his own importance, Lynch reveals a pragmatic businessman, a community leader with a fair and sensible understanding of business and the value of reputation, a man one would be confident to do business with.
He is only let down by Ibsen who places the character in the wholly unbelievable situation of first taking a hard-headed and realistic view of the impact of Nora's indiscretions, then turns somersaults to 'forgive' her the very moment he thinks their troubles are over.
In fact of course Ibsen knew the ending of his play and had to find a way of turning the tables on Torvald to reveal him as a shallow prig, which is the more usual way of playing the character.
What follows is a somewhat protracted discussion between these two unhappy marrieds that could just as well have gone the other way, except that everyone in the audience is waiting for her to pick up her grip and stalk off downstairs to the front door and slam it with, in this production, a gunshot finality that reminds one of Hedda Gabler's offstage demise.
If I have concentrated on the two central roles, there is fine playing among a tip-top supporting cast led by Christopher Ravenscroft as a slightly creepy Dr Rank, gently caressing Nora's stocking, Anthony Howell (best known as the Foyle's War detective sidekick) as a quietly reasoning, self-possessed Krogstad, and Susie Trayling as Nora's old chum Christine.
As a sign of the detail given to every nuance of performance, Laura Power as the maid delivers an apparently innocent line with withering irony, a newly graduated young actress who reveals a flair for comic timing and characterisation.
Pete Wood reviewed this production in Bath
Reviewer: John Thaxter