DollyWould

Sh1t Theatre with Show & Tell
HOME Manchester
–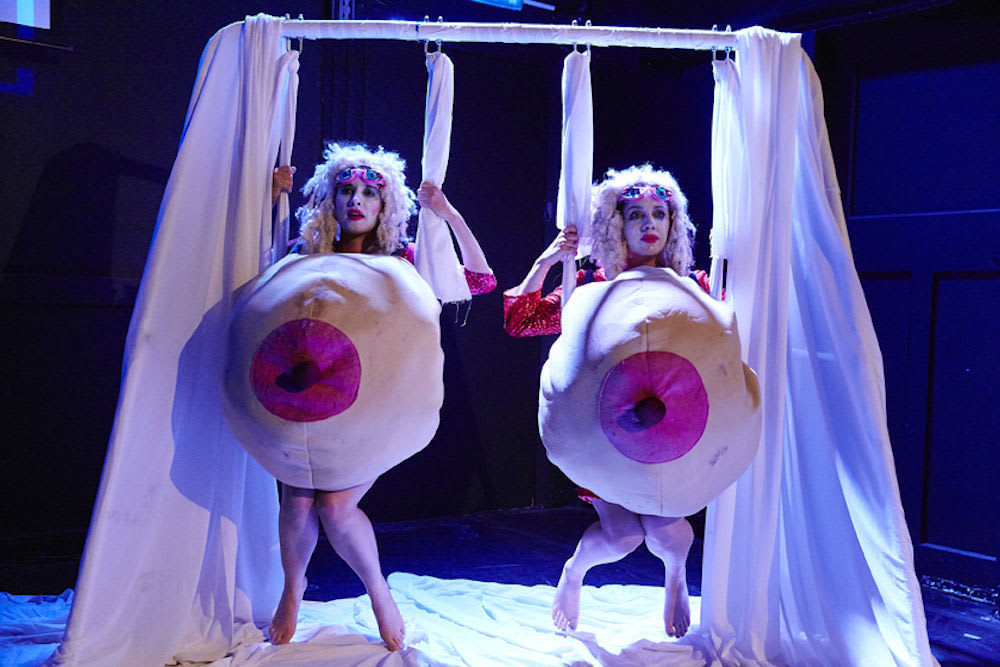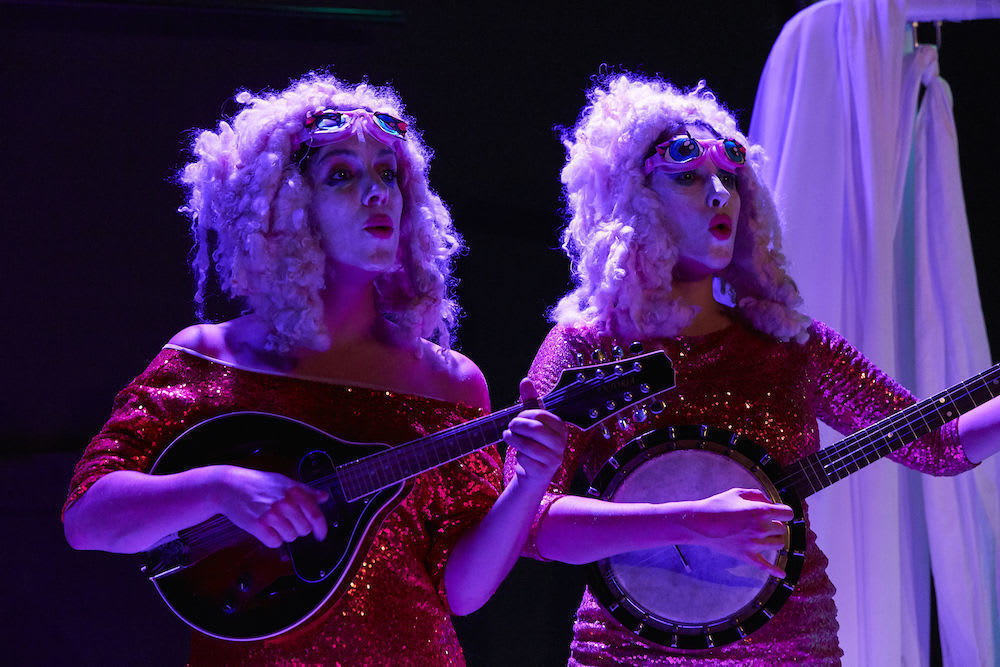 Sh1t Theatre returns to HOME to perform its latest show in front of a packed and very enthusiastic crowd, despite only playing three nights in the smaller Theatre 2 and appearing a long way down the theatre's What's On page. I suspect it could have played comfortably for a week—I only got in myself with a returned ticket. (It's already sold out in Leeds and Portsmouth according to the tour web site.)
After seven years of Sh1t Theatre (it is pronounced less coyly than it is written—it's Shit Theatre), Becca and Louise have produced what they have labelled their Mainstream Crossover Hit based on the country music megastar they both love: Dolly Parton.
The show is linked together by returning every so often to a 1977 interview of Dolly by Barbara Walters in which the original questions are played over the PA and then the Sh1t duo sing Dolly's often witty and cutting replies, accompanying themselves on various live instruments looped using a sampler pedal.
A significant portion of the show features their research trip / Arts Council-funded fan pilgrimage to the Dollywood theme park in Tennessee—plus they popped across to the Tennessee Body Farm for forensic research on body decomposition while they were there. Why not? (They do link this in quite cleverly with the rest of the show.) The range of attractions and souvenirs on offer range from the tacky to the downright tasteless, including a fake replica of the wooden shack where Dolly grew up complete with fake gravestones for her parents in the fake garden.
The other thing for which Parton is famous is her figure, which is also prominently represented in this show: Becca and Louise represent the most famous breasts in music first with their own, exposed in a particularly unexpected way, and then with a pair of falsies so large they have to wear one each. And then the issue is given a more thoughtful twist with a cut-up sequence of interviewers' potentially invasive questions about her appearance, with Parton's always-polite responses excised.
If Sh1t Theatre is used as an extension of Peter Brook's term 'rough theatre' then this show is the epitome of it. It uses multimedia technology such as projections and samplers mixed with good old-fashioned slapstick, stand-up, music, misdirection (the confusion between Dolly the singer and Dolly the Sheep is particularly funny) and perhaps some improvisation.
But, while it appears chaotic, there is a script at the heart of this—I know because they tried to sell me one as I scuttled past them to get to my bus—published by Oberon. All of this is carefully worked out and scripted and then performed as though spontaneous.
It's put together with bags of imagination and, at just an hour, the perfect length. While there were plenty of belly laughs from the packed audience when I saw it, there are a few serious points about fame, taste and body image that they implant into your brain without ever bashing you over the head with them.
Overall, it's great fun, but you'll be lucky to get a ticket.
Reviewer: David Chadderton