Dolphins and Sharks
James Anthony Tyler
Over Here Theatre in association with the Finborough Theatre
Finborough Theatre
–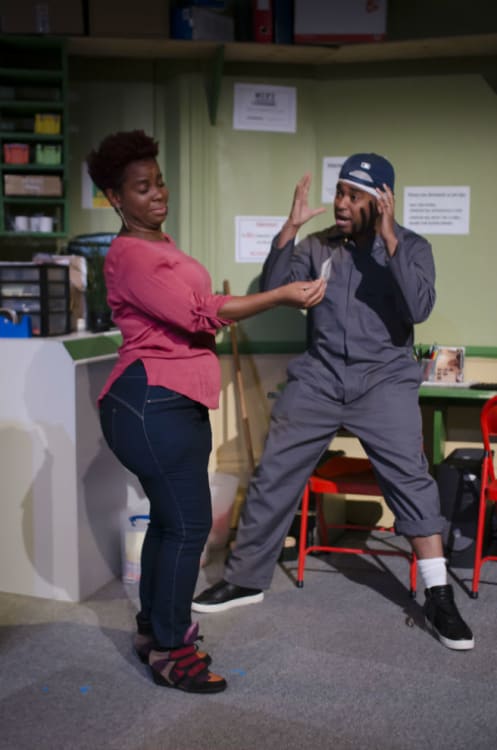 You'd think that a promotion at work would be attractive, particularly when wages are low and there are too few jobs about. But that's not the way it looks in the Harlem copy shop depicted in James Anthony Tyler's warm and entertaining Dolphins and Sharks.
It is 2014, Obama is President, Harlem is gentrifying and Mr Timmons plans to make his copy shop a more profitable business.
We first see the shop when the Nigerian-American Yusuf, (Ammar Duffus) arrives forty-five minutes late for an interview for the post of sales associate.
Xiomara, who has been asked to do the interview, is reluctant to even consider him, but co-worker Isabel encourages her to recommend he be appointed.
Rachel Handshaw as Xiomara and Shyko Amos as Isabel are a funny, quick-witted double act dropping into their conversation the odd line from a song and the occasional playful visual mockery of a fellow worker who is considering joining the police.
It's a friendly, easy-going workplace and early on in the play you might think you are simply watching a smart comedy. But each of the workers is under some kind of pressure.
Yusuf is a postgraduate student being hounded for payments on a student loan. He chose to work at the copy shop on the promise of $13 an hour and is angry that they only pay him $9 an hour when he is finding it difficult to get by.
Isabel has two kids to support and a husband in a precarious job. Xiomara is still living with her mother who hassles her to get married. She yearns to be able to move out.
The janitor Danilo (Hermeilio Miquel Aquino), who is Dominican and lives in the same building as Xiomara, proudly talks about his wife's pregnancy even as he worries how he can afford a child.
Things very quickly change when the white boss Mr Timmons, who never visits the shop or even appears on stage, appoints Xiomara as the new line manager and begins to institute a new regime of efficiency savings that mean more work, new rules, uniforms and staff changes.
Morale falls, relationships fracture and workers take out their frustrations on each other.
The customer Amenze Amen (Miquel Brown), who seems to use the shop as her base for campaigning to save the historic Harlem Renaissance theatre, urges them to make a stand.
"We going to keep fighting each other for crumbs?... This company is a like a vicious shark preying on everything in the ocean. Dolphins swim in groups to avoid shark attacks. Yail understand?"
These characters are all likeable and we care what happens to them. The situations depicted are believable and the plot is engaging.
The show does tend to headline its political message but it tells an important, very real story of a workplace bubbling with discontent behind the apparent calm of business prioritising profits over everything else.
Reviewer: Keith Mckenna