Don Carlo
Giuseppe Verdi, libretto by Francois Joseph Mery and Camille du Locle, based on a play by Friedrich Schiller
Met Opera on Demand
Metropolitan Opera House, New York
From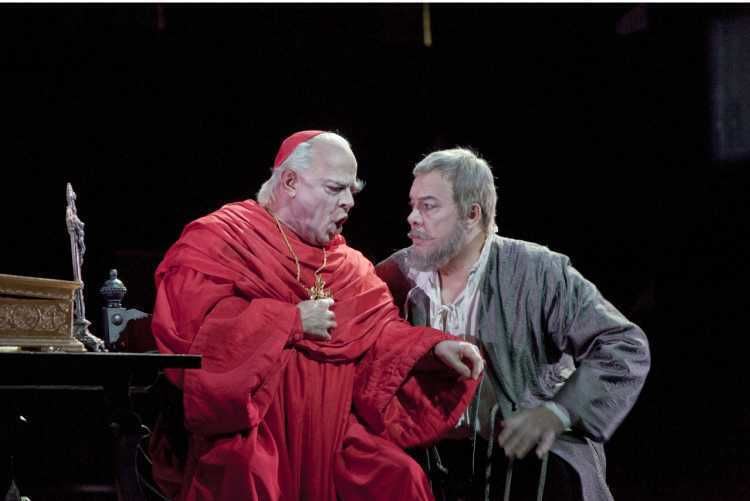 Friedrich Schiller, Germany's greatest poet and playwright, denounces religious bigotry and state persecution in the strongest terms. But these days his play is completely overshadowed by Giuseppe's Verdi's opera.
This performance of the opera, starring Roberto Alagna as Carlo, Marina Poplavskaya as Elizabeth de Valois, Simon Keenlyside as Rodrigo, Ferruccio Furlanetto as King Philip II, Anna Smirova as Princess Eboli and Eric Halfvarson as Grand Inquisitor, was directed by Nicholas Hytner and conducted by Yannick Nézet-Séguin at The Met in New York in 2010. Hytner, then artistic director of The National Theatre, had already directed the opera at the Royal Opera House in London.
Elizabeth de Valois was to have married Don Carlo. Instead, she finds herself forced to marry his father, King Philip II of Spain, as part of a treaty to end the war between France and Spain. The couple are grief-stricken. Roberto Alagna's Carlo suffers such anguish. Elizabeth puts honour and duty above love and remains totally virtuous. Marina Poplavskaya has such dignity and serenity.
(In real life, Carlos, heir to the Spanish throne, was a deformed and mentally unstable young man who enjoyed torturing animals and whipping little girls. He died mysteriously at the age of 23.)
Princess Eboli, the King's mistress, loves Carlo and when he rejects her, she tells the King that Carlo is having an affair with Elizabeth and Philip believes her lies. Anna Smirova personifies a woman scorned.
Carlo begs his father to put him in charge of the Netherlands expedition, knowing that he can win people's minds and hearts in an oppressed nation and avoid bloodshed; but his father, who trusts nobody, won't listen to him or anybody. The plea for mercy (beautifully sung) by the Flemish Deputies falls on his deaf ears. Philip dismisses the Flemish as traitors, rebels, infidels and shows no mercy.
The Catholic Church, as is usual in dramas set in the 16th century, comes out of the story badly. Even Philip, who has immense authority, is but a pawn in the Church's hands. "Must the throne bow to the altar?" he asks. The Grand Inquisitor is a blind monster in scarlet and on crutches. Eric Halfvarson is a frightening figure. Verdi also includes a grisly, bloody auto-da-fé scene (which is not in Schiller).
The real hero is Don Carlo's best friend, Rodrigo, a champion of liberty and democracy, a man of his integrity, idealism and courage. Simon Keenlyside, who makes a strong impression throughout, has a fine aria on his death.
Ferruccio Furlanetto's Philip proves in another fine aria to be more human and lonelier than you might think. He loves Elizabeth and knows she will never love him and it hurts.
I enjoy Verdi enormously. Verdi is always good value, but I long to see Schiller's play again. There was an excellent production by Michael Grandage in the West End in 2005 with Derek Jacobi as King Philip, which proved beyond doubt, and without any reservations, that it deserves to be in the national repertoire.
There are a number of ways of tapping into this opera and others at will. The Met Opera on Demand service offers annual ($149.99) and monthly ($14.99) subscriptions as well as a one-off payment ($4.99) for those who have limited time or only want to watch the occasional opera.
Reviewer: Robert Tanitch