Don Carlos
Giuseppe Verdi
Grange Park Opera
The Grange
–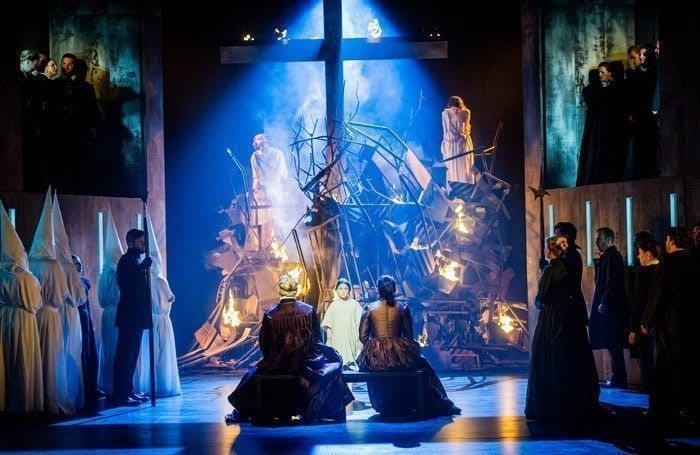 Grange Park's Don Carlos is an outstanding performance of a bleak and moving opera. Verdi's masterpiece stands the test of time, heightened by Jo Davis's gripping production.
Confession: when I see running times of nearly two hours for the first half alone, I worry about whether I will have an enjoyable evening. Opera is often long and sadly quantity doesn't always equate to quality.
Joyfully, I can report that Don Carlos remains exciting throughout, with excellent pacing. A huge undertaking for any opera company, let alone one working with such limited stage space, Grange Park Opera has surpassed all expectations with this Goliath of an opera.
Set in a dark and moody monastery, there is little light relief throughout the four acts. Gianluca Marciano conducts the Bournemouth Symphony orchestra with flair, eking out the broody drama in the music.
Filippo (Clive Bayley) dominates this show. His steely will is shown from the fore, leading his new bride through a procession of human torches. Throughout, Bayley excels as a domineering King, ever threatening and paired with a faultless vocal delivery.
Delightfully, in this cast extraordinary acting ability and vocal power abounds. Alastair Miles gives a wonderfully detailed portrait of the remorseless Grand Inquisitor, his facial expressions tell a whole story. David Stout is charming as Posa, though his final death aria could have had more material. Stefano Secco has a huge role to sing and largely manages this with aplomb. Sometimes he shows us the difficulty of the music, which is a shame as his voice is exceptional and can certainly handle the music.
Ruxandra Dunose, is a powerful Eboli, switching from her carefree flirtatious first aria to a desperate cry of guilt in "O don fatale". Virginia Tola (Elisabetta) has a beautiful voice with great command of pianissimo dynamics although perhaps used a little too liberally. She doesn't quite have the power of the five huge voices that surround her in this cast, but in normal circumstances this would not be so apparent.
As always, the Grange Park chorus was in fine voice and dressed the set wonderfully. Clad in traditional robes, costume designer Gabrielle Dalton utilized the striking difference between the black costumes of the Royals and the white of the victims and inquisitors.
Davis and Lynne Hockney's (movement director) staging is most successful in the bigger ensemble numbers which are littered with interesting detail. From the swooning ladies with their intricate fan work in the Eboli's aria to the kicking and imploring children at the Auto-da-fé, there is always something to catch the eye.
This is a powerful performance of an opera which shows in a world of constant politicking there are no happy endings.
Reviewer: Louise Lewis