Don Giovanni
Wolfgang Amadeus Mozart; libretto by Lorenzo da Ponte
Opera North
Leeds Grand Theatre
–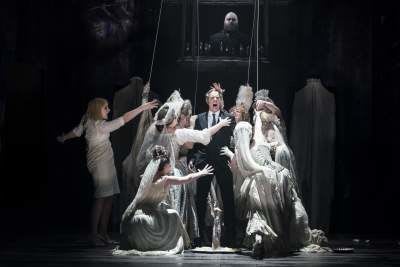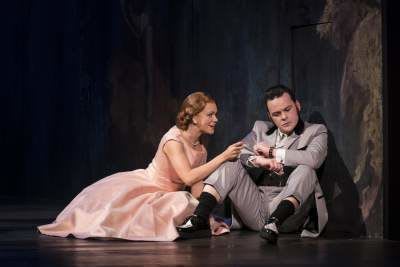 Opera North's latest staging of Don Giovanni (1787) could hardly be timelier. For over two centuries, Mozart's disreputable protagonist—one hastens to call him a hero, or even an anti-hero—has been widely regarded as a roguish, even romantic figure. When one considers that the opera begins with the title character trying to rape a woman, this is simply mind-boggling.
It's impossible to watch Don Giovanni in the era of #MeToo without perceiving the similarities between opera's most amoral philanderer and the numerous public figures who have been recently exposed for their abuse of women. Like Harvey Weinstein and his cronies, Don Giovanni is driven by a toxic blend of lust, greed and power hunger.
After failing to rape Donna Anna (Jennifer Davis), Don Giovanni (William Dazeley) kills her father, the Commendatore (James Platt), in a brawl, and subsequently flees the scene with his loyal sidekick, Leporello (John Savournin).
Taking full advantage of the opera's supernatural elements, director Alessandro Talevi reimagines Don Giovanni as a time traveller who pops up in different centuries in order to seduce and assault women. Having temporarily escaped the wrath of Donna Anna and her fiancé, Don Ottavio (Nicholas Watts), he sets his lustful eye on the newly wed Zerlina (Kathryn Rudge), incurring the rage of her husband, Masetto (Ross McInroy).
All the while, Don Giovanni is pursed by one of his many spurned lovers, the hopelessly devoted Donna Elvira (Elizabeth Atherton).
Don Giovanni offers audiences a heady mixture of comedy, tragedy and supernatural horror, and Alessandro Talevi's production captures the carnivaleque spirit of the piece. The time travelling element may annoy some audiences, but makes perfect sense when one considers that the Don Giovanni archetype recurs throughout the centuries in a variety of different guises, from Lothario in Don Quixote (1615) to Michael Caine in Alfie (1966).
When Mozart and Da Ponte came together to create their opera near the end of the 18th century, the story of Don Giovanni was widely retold in street theatre. Talevi's production pays homage to the libertine's theatrical history by periodically reducing the stage to a rectangular picture frame and turning the opera into an elaborate Punch and Judy show. I overheard some audience members complain about this device, but I thought it was an inventive way of drawing out the black comedy of the opera.
Talevi's production does not disappoint in the final sequence where Don Giovanni is confronted by the ghost of the slain Commandatore and later dragged into hell. Often described as one of the most terrifying moments in opera, Talevi pulls him upwards with ropes, transforming him into a grotesque human marionette.
Reprising his role from the 2012 production, William Dazeley commands the stage with his sinister interpretation of Don Giovanni. However, by making him such a menacing figure, the character loses a lot of his sexual charisma.
Don Giovanni is beautifully sung by its talented ensemble. John Savournin is a joy to behold as Leporello. He demonstrates real comedic chops, and delivers a warm, characterful performance. Equally impressive is Elizabeth Atherton, who is deeply moving as a woman caught between love and hatred. Kathryn Rudge makes a strong impression as Zerlina, particularly during one scene where she sings adoringly to her ill-treated husband while sitting astride him.
Don Giovanni caps off another first-rate season for Opera North, and I look forward to their upcoming production of Salome (1905) later in the year.
Reviewer: James Ballands