Don Giovanni
Wolfgang Amadeus Mozart, libretto by Lorenzo Da Ponte
National Theatre, Prague
National Theatre, Prague
–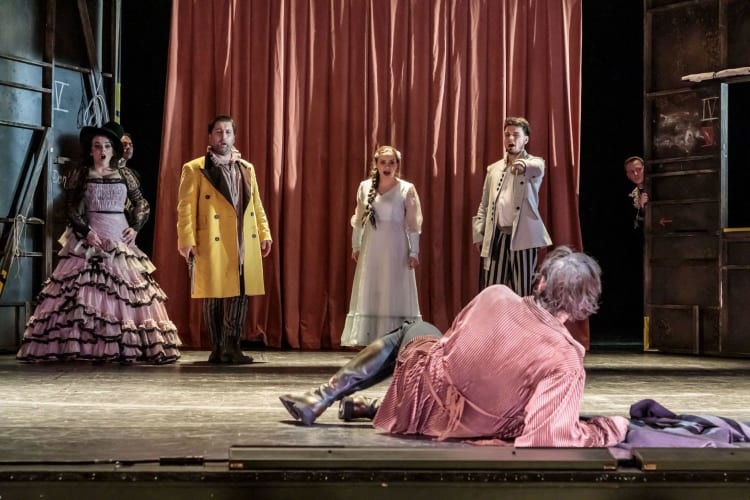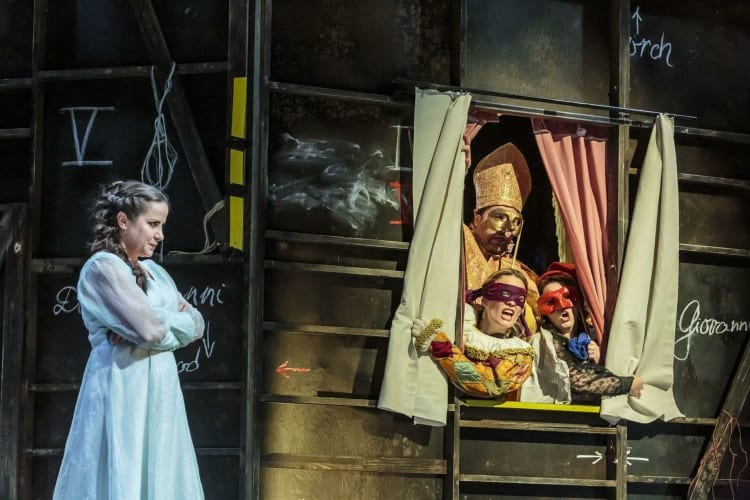 Prague's National Theatre has a special relationship with Mozart, for it was here that Don Giovanni premièred in 1787. Alexander Mørk-Eidem is the first non-Czech to direct the opera at this theatre. His revival was recorded in May 2021. Karsten Januschke conducts.
Da Ponte claims that Mozart always wanted to write a serious opera about the most insatiable lover the world has known. The opera begins with Giovanni raping Donna Anna and killing her father, the commendatore. It ends with him going to hell, the just desserts 18th century moralists would expect for the crimes he has committed.
The libretto is both comic and serious; but the seriousness gets short shrift here. There is no darkness. The production is staged and filmed in such a light-hearted manner that it never lets the audience forget they are in a theatre and watching singers acting in an opera buffa. The scenery has no walls, only curtains. The singers wear costumes, not clothes, and they address the audience more than they do each other.
Giovanni has a long history of lust and betrayal. According to his servant, Leporello, he has seduced over 1,800 women, a serious underestimation. What is new in Mork-Eiden's production is that, in his duel with the commendatore, he is mortally wounded and bleeds profusely and particularly when he is serenading Zerlina, telling her, "Your lips are sweeter than honey."
Pavol Kubáň is Don Giovanni. Miloš Horák is Leporello. They could be brothers. They are equally scruffy. They could swap roles. Horák's performance is much more appealing than Kubáň's.
It is difficult to be moved by Donna Anna's account of her rape and her father's murder. Jan Sibera is wearing a silly hat and visibly enjoying singing. There is no indication whatsoever that she is actually distraught. The reaction by her fiancé, Ottavio, to her story is infinitely more heartfelt. His aria ("What pleases her gives me life, what displeases her gives me death") sung by Richard Samek is one of the opera's high spots.
Zerlina (Lenka Máčiková), the flirtatious bride, begs Matteo, her naïve groom (Lukáš Bařák), to spank her, but they are interrupted before he can. Later, she has the opportunity to take off his shirt and give his bruises a good rub. The only person you can take seriously is Elvira (Alžběta Poláčková) who still loves Giovanni despite his betrayal and her suffering.
The finale, one of opera's most unforgettable scenes, when the statue of the commendatore comes to life, should scare the living daylights out of everybody. It does nothing of the sort.
Reviewer: Robert Tanitch