Don Jon
Laura Turner
Silent Uproar Productions
Spectrum Nightclub, Park Street, Hull
–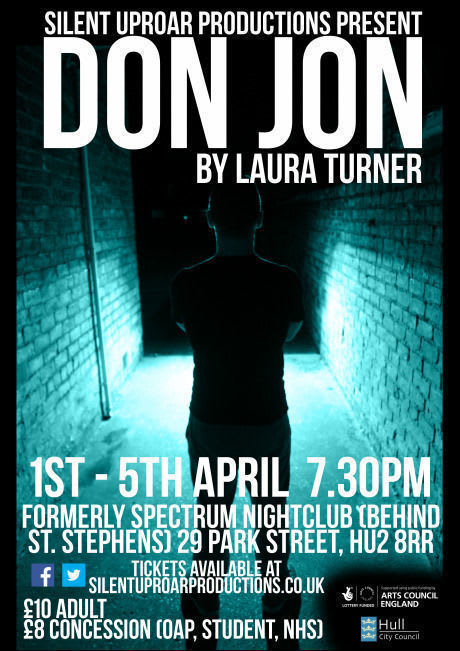 Laura Turner's adaptation of Byron's epic poem, Don Juan, has the eponymous anti-hero re-born as Don Jon (James Stanyer), a sinewy, drug dealing nightclub owner seducing just about anything that moves. The play is staged at Hull's Spectrum Nightclub on Park Street by Silent Uproar Productions.
Turner has taken an ancient story and adapted it into a deeply contemporary one and provides us with an intelligent dialectic into sexual politics through the various characters' destructive journeys. Interesting through this is, the dramatic challenge is to create something visceral to an audience where most sexual taboos simply aren't taboo anymore. When, in an early scene, Jon and his latest conquest have sex in a toilet the impact is more amusing than shocking.
In the second half, however, Jon's easy charm takes a much more sinister turn when he uses his sexual prowess for revenge. His employee Steve (Matthew May) has made Jon's sister pregnant. In turn he seduces Steve's girlfriend, Charlie, (Jessica Morley) and subjects her to a gut-churning episode of humiliation and sexual abuse. It is a chilling and compelling spectacle and possibly the best scene of the production.
As the lethal Don Jon, James Stanyer gives a sexy, credible and charismatic performance. He dominates the action—as indeed his character should. If anything, I felt that his performance was a little too contained. This is a man who not only weaves others into the destructive elements of his libido; ultimately it destroys him too.
It wouldn't spoil the tension of the second half to see more danger and corruption in his character earlier on. He's on the way to creating a memorable performance, so he can afford to let go a little. The rest of the ensemble are on fine form too, with a particularly effective performance by Jessica Morley as Charlie.
There is still some more work to be done here. Director Alex Mitchell has created a tight and effective ensemble and directs the action with pace and clarity. Whilst the movement sequences between Jon and El (Alice Beaumont) provide exciting and skilful imagery, they seem somewhat at odds with most of the rest of the action.
Rather than get rid of it, however, I would have liked to have seen this dynamic used to explore other relationships too. Paradoxically, the night club venue works against the production. The Spectrum is scruffy, horribly cold and with terrible acoustics. The world of Don Jon cries out for an environment that is seedy and decadent not seedy and derelict.
Laura Turner is a fine playwright and this is a highly commendable piece of work. Some judicious editing in the first half and a greater emphasis on the physical potential of the story and perhaps slightly less dialectic could see what is undoubtedly a good piece of work become a very special one.
Reviewer: Richard Vergette