Don Pasquale
Gaetano Donizetti (adapted)
Welsh National Opera
Oxford Playhouse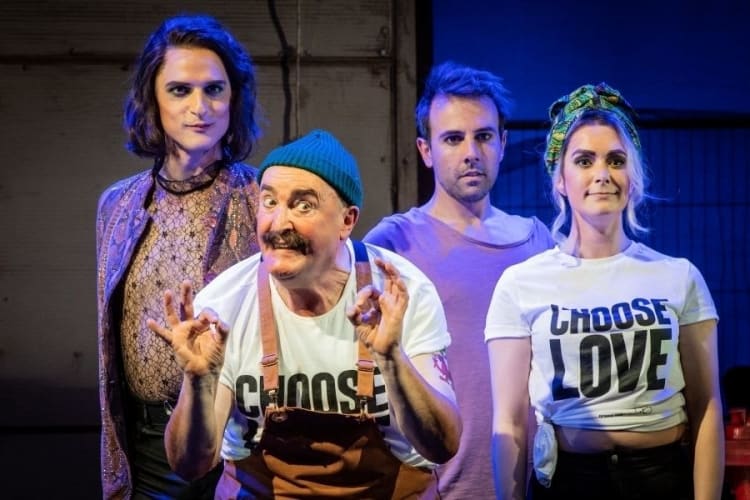 It was not so much Donizetti as Dönerzetti in Daisy Evans's radical and irreverent reworking of the composer's last great comedy.
The original skinflint Don Pasquale, tricked by a shrewish Norina into letting her marry Ernesto, is transformed into a Greek immigrant, driven into submission by a Norina who turns his Cardiff kebab van over to serving vegan juices.
Designer Loren Elstein's set is great fun, but it's not just the setting that's changed. The libretto is not translated but rewritten, with all recitative thrown out and replaced by speech, and the music has been arranged and re-arranged by conductor Stephen Higgins, for seven-piece band including saxophone and accordion, with the overture played at the end with new accompanying vocal lines.
The result is something akin to the teasing style of WNO's Rhondda Rips It Up and I've no problem with the idea of occasionally also ripping up a 176-year-old farce, nor with this particular concept, which serves as a great comic vehicle—excusing the pun—for Andrew Shore in the title role.
He has a meaty presence, a chilli sauce of a voice delivered here with warm Mediterranean inflection, and an instant command of the audience from his very first sentence: "It's always bloody murder on a Friday."
But when you take so much away from a piece, you have to put a lot back, and unfortunately that was one of the best lines in a new libretto lacking in wit. I wonder what the WNO's masterful former dramaturg Simon Rees might have done with it.
As a great comic actor, Shore nevertheless made the best of what he was given—and more. "I've never seen this woman before in my life," he quipped when a stage manager came on to fix a prop that had gone wrong.
Tenor Nico Darmanin excelled as Ernesto, hamming up his love aria as a wannabe Freddie Mercury while caressing the beautiful lyrical melody, and himself, and baritone Quirijn de Lang, seemingly dressed in surplus gear from The Rocky Horror Show, gave a showpiece demonstration of Donizetti's coloratura writing and rapid-fire delivery.
Harriet Eyley was an appealing Norina, with a big, well-rounded voice. It was often hard to pick up her words—not entirely her fault, for the soprano range makes this more difficult. Given a limited budget, it is understandable that surtitles were not available, but regrettable nonetheless.
The reduced orchestra can sound a little thin, but the musicians—superbly led by Higgins, including a passage that has to be co-ordinated with a video-recording of a face-stuffing Bryn Terfel as a bogus lawyer—played brilliantly, including accordionist Mirek Salmon and Angela Whelan, whose beautiful solo for muted trumpet alongside Ernesto's sad act 2 farewell was a highlight of the evening.
Reviewer: Colin Davison