Don Quichotte
Jules Massenet
Grange Park Opera
Grange Park Opera
–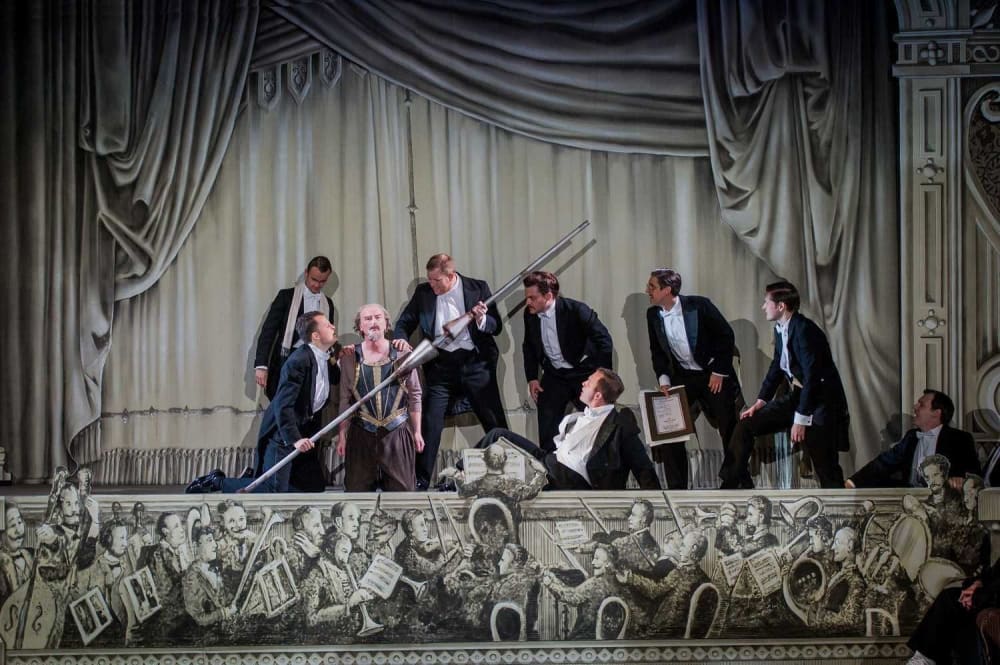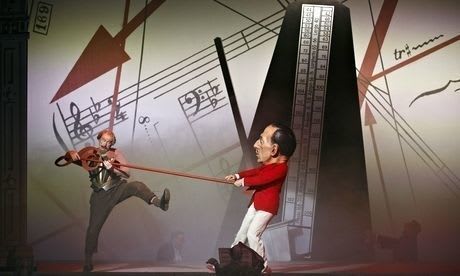 Grange Park's Don Quichotte fits into the cliché 'a night of two halves'. Pre-interval was pleasant enough, well sung and amusing, but little to evoke empathy or emotional response. This blander tone is quickly forgotten in the triumph of the second half.
Director and designer Charles Edwards makes Massenet's Don Quichotte an opera within an opera. He employs a second stage for the Knight's tale to play out, set in a grand room that could have perhaps been found in Grange Park in its heyday.
The chorus bustle into a library, clad in late 19th century monochrome DJs and gowns. They crowd around the piano and sip tea as, watching a medieval tale enacted. The action in Don Quichotte's tale is delineated though coloured costume and an attractively stylised drawn set: fake curtains, an orchestra pencilled in and a hobby horse as the knight's steed.
After Dulcinee's (Sara Fulginee) strong contralto coloratura entrance, which is a little heavy toned, restricting the flighty agility required, a large crash occurs offstage. Clearly the actor intended to play the knight has disappeared, and instead Clive Bayley, posing as this fiasco's composer, is hurriedly redressed as Quichotte. Stripped to a beige onesie, it neatly sets up Bayley's appearance of a frail man with a lacking physique, the antithesis of the strapping men from our stories.
Massenet took his opera from Le Lorraine's play, which had already altered Cervante's elaborate, triple narrative tale. Edwards's staging device re-introduces the idea that there is a narrator to the tale, another, Bayley is often seen checking the score before continuing with the next adventure.
Don Quichotte is a still a humorous figure, an idealistic man attempting to live like a knight, after such a calling has long been extinct. The first two acts are full of posturing as suitors attempt to woo Dulcinea. Unfortunately, there's a distinct lack of dramatic (or perhaps even musical) substance to grab onto, despite effectively setting up Edwards's concept.
There are nice touches—Quichotte's expected attack on the windmill find him instead caught in the swinging pendulum of a metronome when the windmill turns out to be simply a shadow projection.
Post picnic, it seems the story is refreshed, and a palpable contrast in atmosphere appears in the auditioruum. Conductor Renato Belsadonna brings out Massenet's musical genius, the BBC concert orchestra eking out his lyricism and there is a stonking cello solo.
All three leads display wonderful character and vocal ability, but it is the partnership between Don Quichotte and his knight Sancha Panzo (David Stout) that is the most gripping.
Bayley imbues his knight with a tender vulnerability, coupled with a strong, powerful bass voice. David Stout shines as the frustrated manservant and his chocolate tones certainly prove he's a man to watch out for. With Pappano in the audience the night I was watching, hopefully Stout will grace the Royal Opera House stage soon.
This stongly stylised concept used by Edwards has been widely fingered as the cause for the show's difficulty in connecting. It is difficult to assign blame so simplistically as Massenet's own composition seems less gripping in acts one and two.
Despite these complaints, Bayley's sublimely performed arias are reason enough to see the show.
Reviewer: Louise Lewis