Don Carlos
Friedrich Schiller
Sheffield Crucible
(2004)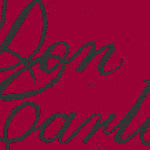 It's a long haul from Bristol to Sheffield - around 200 miles in fact; quite a way to go to see a play, you might think. And anyway, don't they do this sort of thing better in London? The answer is, respectively, yes it certainly is - and no. Well, not necessarily anyway. Under the stewardship of Michael Grandage, The Crucible has become one of the finest producing theatres in the country, winning awards and attracting some of the country's finest actors. Acclaimed productions of As You Like It, Richard III, and The Tempest have featured the likes of Sir Derek Jacobi, Kenneth Branagh and Joseph Fiennes.
After being appointed artistic director at the Donmar Warehouse, London, following the departure of Sam Mendes, it is not perhaps surprising that Grandage would eventually decide to step down as associate director at Sheffield. This then is his final season - the end of the grand age of Grandage, you might say - and this production of Don Carlos is his swansong.
Thankfully, it's a triumph. Superbly staged, beautifully lit, with several stunning performances, not least from Sir Derek Jacobi as Philip II. Three hours flew by. Schiller wrote a thriller in Don Carlos, a heady brew of the personal and political, with more than a nod to Hamlet, unsurprising given the latter's iconic status to writers of the eighteenth century Romantic Movement like Schiller.
As the play opens, the heir to the Spanish throne is sunk in melancholy which not even the best efforts of his best friend the Marquis of Posa (bearing more than a passing familiarity to Horatio), can lift. The reason for his despair soon becomes clear. His father, Philip II, has married a woman he was betrothed to and with whom he is still desperately in love. The fact that these feelings are now in effect incestuous ratchets up his anguish to breaking point.
But, like Hamlet, Don Carlos must needs rouse himself to action for on him, as Rodrigo makes clear, rest all the hopes of his country and his empire, in the sixteenth century the greatest in the world. Philip, once too the hope of his people, now in his twilight years, has grown into a cold-blooded tyrant, responsible for the unleashing of the Spanish Inquisition. The Low Countries are in revolt and brutal suppression under the Duke of Alba seems imminent.
It is unsurprising that the play occupies a special place in German cultural history, acquiring special resonance in times of oppression. (On a famous occasion in Hamburg in the early years of the Third Reich, the audience broke into spontaneous applause at the appeal for "freedom to think and speak.") All this could make the play sound preachy, Shaw-like or Miller-esque, but far from it. The politics arise out of the personal and never seem forced or stilted.
Like Elsinore, this is a claustrophobic world, paranoid, full of intrigue and riddled with spies. It is a world too ruled by ritual and precedent. The Queen calls for her daughter only to be told it is not yet time for her to see her. It is a world beautifully created by Christopher Oram and Paule Constable, responsible for the set and lighting respectively. And it is a world full of darkness: one of Rodrigo's first lines is an appeal to Don Carlos to "step back into the light, Prince". But the lighting is breathtaking, endlessly varied.
There are some marvellous performances. Jacobi is brilliant, better even than in The Tempest. Cold, despotic, impervious to his son's pleas for affection, he gradually reveals the price of his isolation, his lack of love and his need for the pure friendship of "one good man" who can help him find peace again. In Rodridgo he believes that he has found such a man and his anguish at the discovery of his betrayal and subsequent abandonment of his humanity is devastating.
He is well served by excellent performances by Michael Hadley as the hypocritical and self-serving Domingo, confessor to the King, and Ian Hogg as the Duke of Alba. Elliot Cowan is a noble and moving Rodrigo, while Peter Eyre, advancing out of the darkness with two crutches like some giant Praying Mantis, is truly menacing. Even Una Stubbs, not someone I'd previously thought of as much of an actor, is a revelation as the Duchess of Olivarez, sour attendant to the Queen. Surprisingly the weakest of the principal players was Richard Coyle as Don Carlos, seen earlier this year in After Miss Julie and last year in the acclaimed The York Realist. His performance, decent enough, is a little underpowered and lacking in range. I found myself imagining what Michael Sheen would have made of the part.
That cavil aside, this is a terrific production of an absorbing play and a fine note to finish on. One can only hope that Sam West who will take over at The Crucible will maintain the very high standards set by his predecessor.
Reviewer: Pete Wood