Don Giovanni
Wolfgang Amadeus Mozart; libretto by Lorenzo da Ponte; translation by Amanda Holden
Opera North
Theatre Royal, Newcastle, and touring
(2005)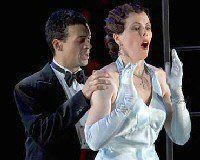 I was going to say that I am in two minds about his production, but I'm not: it's more like half a dozen.
The setting has been updated to 1930s Spain, which is fair enough, for the story is universal. Sexual predators can and do occur at any time. In fact, the 30s setting is not very obtrusive and really what we get is a vaguely modern air, which is fine because to tie it to too specific a time and place would undermine the universality. So I can go along with this.
The set is a mainly greyscale (predominantly black) abstraction, consisting of a gantry which runs the width of the stage with two ladders reaching from the floor into the flies, one giving access to the gantry through a trapdoor and the other by stepping over an upstage rail. There's a third ladder going straight up some way back upstage left which is never used and so, irritatingly, had me constantly wondering when it was going to be used and why. It is a brilliant set, but not for Don Giovanni. It clashed with the evening dresss of the men and ball gowns of the women and rather gypsyish costumes of the peasants. Definitely a bit schizophrenic there.
Bruno Poet's lighting was superb: subtle and dark, as befits the piece. It also fitted the design, so that's OK.
The choreography was, in places, decidedly odd. Jiving to Mozart? Amusing, yes, but it made me wonder - and forgive me if I am being a bit obtuse here - if it was done simply because it was amusing. And the chorus movement in the party and wedding scenes seemed to me to be pretty meaningless : a case of let's get lots of movement onstage and the audience will think it's a party. The movement in the actual action of the story, however, was naturalistic, so there was a touch of the schizophrenia there.
Amanda Holden's translation is modern, sometimes too modern, even for the thirties setting. Whilst I am sure that Mozart himself probably peppered his conversation with the 18th century German equivalents, I'm 99.9% certain that da Ponte did not write the 18th century Italian equivalents of "tosser" and "shitty".
Roderick William's Don Giovanni was a wonderful villain and he very obviously enjoyed playing it as much as we did watching and listening, whilst Richard Burkhard's Leporello was equally outstanding. And both sang superbly. Of the women Susannah Glanville really impressed as Donna Anna. She has a powerful but controlled voice and effortlessly dominated (as she should) Thomas Morgan's Don Ottavio. (I hope I have his name right, for he was a replacement for the ill Iain Paton and he handled the part well, getting a little extra applause from the audience at the curtain for his pains.) I'm afraid that Elena Ferrari's Donna Elvira, a pivotal role, did not really convince. It's not an easy part, for, unlike Donna Anna, she isn't out for revenge but to win back Giovanni. Emotionally, however, this did not come across until the second half when she is conned into believing Leporello is the Don.
And I did want the "stone guest"! We expect the statue to come to life (what statue? We only saw it briefly like a corpse laid out in a morgue) but what we got was a cleverly lit Commendatore and that just didn't have the impact.
Musically I have no complaints - in general both company and orchestra did Mozart proud - but as a production it just didn't hold together.
The Northern Opera season at the Theatre Royal runs until 23rd April, after which they go on to the Grand Opera House, Belfast (26th - 30th April), with the same programme.
Opera North dedicate this season at the Theatre Royal, Newcastle, to the memory of Peter Sarah, the theatre's chief executive, who died on 8th April.
Reviewer: Peter Lathan