Don John
Adapted by Emma Rice and Anna Maria Murphy from Don Giovanni
Kneehigh Theatre (in association with the RSC and Bristol Old Vic.)
Bristol Hippodrome and touring
(2009)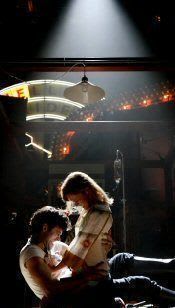 The story of a male seducer is often one which casts women in a passive light, where they serve only to glut the appetite of the rake. So a striking feature of Kneehigh's Don John, based on Mozart's opera Don Giovanni, is the strength and complicity of the female characters. In the original, they may gang up to plot revenge on Giovanni, but here, their appetites for fulfilment, or their potent confident physicality, are what court him in the first place.
Kneehigh has chosen to set the production in the distinctly unglamorous winter of discontent of 1978 and there are several factors which combine to make this a success, creating a piece which is both entertaining and full of resonance.
Even before the opening, Vicki Mortimer's set (rusty metal building site trailers and chipped fairground lights) evokes a kind of grubby nostalgia that signifies drunken kisses in shabby illicit corners of the town. This sets the scene for a piece which becomes less about one man's inglorious demise into hell and more about the kind of encounters that seem vaguely familiar: vicars' wives longing for sexual fulfilment, women who can't get that one-night stand out of their head, and people who have to face the consequences of dabbling in, or being seduced by, casual sex.
John, played by Gisli Örn Gardarsson with satyr-like lightness, skulks around the rooftops of this dingy town, first answering the frustration of Anna (Nína Dögg Filippusdóttir), whose prudish husband won't allow her to fellate him, then dodging the persistent attentions of past-conquest Elvira (an elegant-voiced and perfectly comic Amy Marston), while trying twice to seduce the fierce, sensual Polish cleaner, Zerlina (Patrycja Kujawska), away from her drab, gold-hearted fiance.
The production doesn't make simple judgements but plays with our sympathies and alternately seduces, amuses and repulses us with John. The rape of Anna is shockingly alluring, while other scenes of John's attempted seduction of Zerlina are framed by wild intoxicating parties. It pairs sympathy with fooling, as we laugh cruelly at the buffoonery of Zerlina's fiance Alan, then later witness him coldly beaten up for amusement by John.
The same occurs in the build-up to John's final demise, which starts with a drug-fuelled idiotic serenade to a balconied woman in the wee hours, and continues into a trip that spins out of control. Any grandeur is stripped out of his downfall by the mixing and mashing of surreal, dark humour which seems more like an bad-tasting hallucination than a dramatic Bosch-like inferno, no better illustrated than in the entrance of the Commendatore (probably the opera's most famous moment) to Bing Crosby's White Christmas. The result renders John's plunge to hell not as the grand fall of a wicked demon but as the fading burnout of a hedonistic punk.
On the flip side of things, reality comes home to the women as well, or one in particular, who receives as a Christmas present a baby in a basket, a perfect definition of a gift: something she didn't ask for and can't give back.
Music varies in style throughout from ska to blues and even select snippets from the opera, used to frame the play's heightened moments. Visually and aurally it's a huge, bold, lustful tale with exploration rather than didacticism at its moral core.
This production was reviewed by Gail-Nina Anderson in Newcastle, by David Chadderton in Salford and by Philip Fisher at BAC.
Reviewer: Lucy Ribchester