Don Juan in Love
Adapted by Steam Industry Free Theatre from Don Juan Tenorio by José Zorilla and the work of Molière and Byron
Steam Industry Free Theatre
The Scoop
(2010)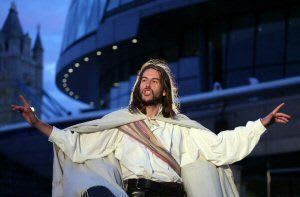 Lock up your daughters, as the company that brought Toad Hall! to the Scoop present their second piece of theatre as part of their 'Bad Boys Season', Don Juan in Love.
Alan J Mirren's Don Juan Tenorio is a mixture of Johnny Depp and the late Heath Ledger, a swaggering bravado who has the power to send any woman weak at the knees and then take full advantage of her. Not even audience members are safe as they too become objects for his affections, but the real apples of his eye are Doña Ana, his friend's bride-to-be, and Doña Inés, daughter of Don Gonzalo.
A noble Don Gonzalo is played with much grandeur by Phil Willmott, the season's director and artistic director of Steam Industry Free Theatre. Willmott proves that he has many strings to his bow and that each one is as strong as the other. Without Willmott the season would not occur and it is thanks to his passion that so many people have enjoyed free productions as the Scoop since 2003.
As Butterelli, Don Juan's comedic servant, Paul Critoph once again has the audience laughing aloud as he worries about his master's misbehaving. Highly reflexive in nature, Butterelli accuses Don Juan of talking 'like a poxy actor' and asks whether he 'can go back to being the comedy servant?' for this is what the audience likes best.
Set in Seville, great use is made of the Scoop's upper balcony area and naked flames help to create an eerie atmosphere as the sun begins to set on the production. The amphitheatre's steps become the cloister walls and puppetry is used to great effect in the famous living statue scene. The production is almost entirely underscored with music, but this does not distract from the action, rather it helps with the conveying of emotions and the building of dramatic tension. Combined with Hansjörg Schmidt's lighting design, Don Juan's descent to Hell is particularly dramatic as floods of red wash the stage and envelop this nineteenth century bad boy.
Although nowhere near as comedic as Toad Hall!, Don Juan in Love does retain some of Molière's humour and veers, to its detriment, on being highly melodramatic at times. One such moment is after the shooting of Don Gonzalo, where piano chords usually found in Victorian melodrama play out, and so a highly dramatic theatrical moment turns to a comedic parody of a bygone era. However, there is no melodrama in the well executed sword fight between Don Juan and Don Luís, played by George Couyas, most enthralling to watch as the friends battle it out for one last time.
Don Juan in Love cleverly combines the many variations of the Spanish legend in a well rounded hour and a half of theatre, whilst demonstrating the Steam Industry Free Theatre cast's versatility as actors. To do two contrasting plays almost back to back is no mean feat, and the actors excel in their many roles. To see both shows is one of the most enjoyable ways to spend an evening in London this summer, as long as it doesn't rain...
Playing Thursdays to Sundays until 5th September 2010
Reviewer: Simon Sladen