Don't You Leave Me Here
Clare Brown
The Courtyard, West Yorkshire Playhouse, Leeds
(2008)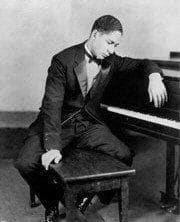 This is a production that trembles on the brink of sheer brilliance. Only one thing holds it back and that is a certain degree of redundancy in the dialogue during the first act. Chop ten to twenty percent of Act 1 (and a lot of that in Scene 1) and this would be a brilliant script. Instead we have some of the writer's scaffolding still hanging around and cluttering up the action. The dialogue is good - but there's just too much of it. I know Ferdinand 'Jelly Roll' Morton liked a lot of notes in his music unlike Basie who, when asked why so many notes were missing answered, 'There are not notes missing, I just don't play them all.' That's a good note for the first act.
And now it's praising all the way!
Two acts, one set in a New Orleans 'sporting house' and the second a Chicago 'café'. Scene one finds Tony Jackson, a great unrecorded pianist of the day (c 1902), downstage, noodling contentedly whilst a flamboyant teenage Jelly Roll Morton peers through a huge curtain and indicates that he can see a lady being stripped, then perhaps, to his distress, being 'pleasured' by a dog.
Both men are out of place, entertainers in the sex trade but also serious, innovative musicians.
Kelsey Brookfield gives us the innocent arrogance and insecurity of youth in a bravura performance which is only improved by an uncanny physical resemblance to Jelly Roll himself. And Giles Terera's Tony Jackson is cool to the point of immobility. A condition that not only contrasts with Brookfield's energetic physicality, but also, we observe, with Jackson's epileptic seizures. Both actors are wonderful to watch as actors or characters, they sparkle like the stars they clearly are - as actors and characters.
The set is a towering scatter of dim lights and mirrors, sailing over and around crimson plush sofas and chairs. The lighting subtle and spot on. The set and lights are as good as theatre gets, sustaining, but not intrusive.
And Sarah Punshon's direction (with the emotional intelligence of the Terera and Brookfield) brings psychological depth to the unfolding story and developing characters.
It's a good story, and I would have liked a note in the programme to indicate how much is surmise and how much factual. But take it as it is, an unusually good evening in the theatre featuring two brilliant performances. Surely with a little doctoring this one will crack the West End.
Running until 18th October
Reviewer: Ray Brown