A Door Must Be Open or Shut
Alfred de Musset translated by Peter Meyer
Tartuffe Productions
King's Head Theatre
(2008)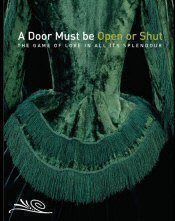 De Musset's 1845 short play is given here with a prelude based on his 12-line poem Le rideau de ma voisine which presents us with a man looking across to a window opposite and hoping that a movement of a curtain means that the woman there is wondering whether he is watching her. He does indeed seem to be the same character as the besotted Baron of the 50 minute two-hander which shows him calling upon his neighbour the Marquise and his gradual progression from diffident politeness to a declaration of his love.
With an all-white set and furniture, some of it painted upon the walls (designed by Bryony Rumble and Deborah Strieber) a brittle formality is established on which to float the tender emotion of Thomas Arnold's Baron, forever departing and then returning so that the door is left ajar. Jessica B. Sarrion as the Marquise plays with a French accent that emphasizes the coquetry of her demeanor when set against the Baron's English. She is beautifully dressed in a lovat green velvet dress that just misses being off-the-shoulder, a perfect match to the tantalizing way she plays with her suitor.
Candida Benson's direction keeps the polite badinage flowing as the Marquise plays her game but there could be more of an hiatus when a realization dawns that what is proposed is not just a romantic liaison but a formal espousal to add a little more dramatic punctuation to what is otherwise light, amusing froth.
The producers claim this as a British premier for the play and certainly de Musset is much better known in Britain for his affair with writer George Sand than as a dramatist. It is an elegant taster of his work, engaging while it lasts, but something of an aperitif for an evening, a curtain raiser that calls for a companion piece which might perhaps show the same performers in very different roles. Of course, if you have not seen Phil Wilmot's production of Fucking Men at the same address you could go off for dinner between the two and catch that very different play at 10pm!
Until 24th May (no performance on Mondays)
Reviewer: Howard Loxton