Doppel Gang
Dominic Hedges
Just Some Theatre
Tristan Bates Theatre
–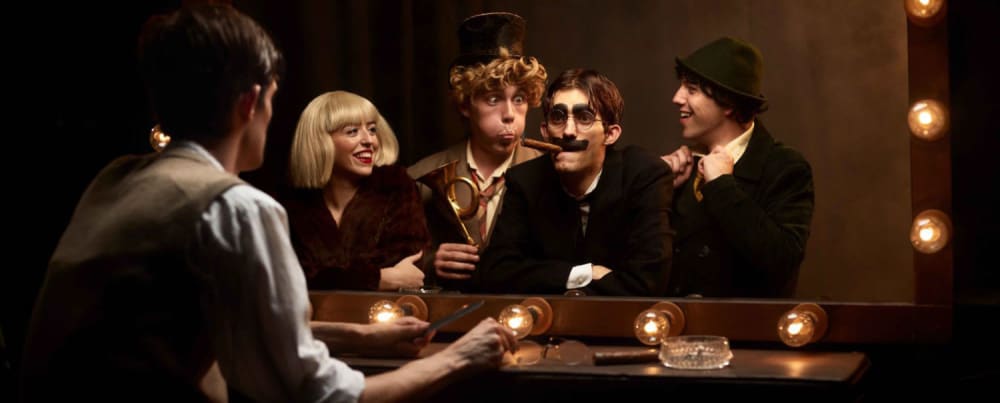 The country's at war, bombs are dropping everywhere, soldiers are dying in far-off lands and one theatre in the heart of London is on its knees.
It seems there is little appetite for the second-rate performance that is top of the bill. And it seems like it's been that way for some time. In fact, for the theatre's frantic owner Lombard, played by Jake Urry, without a much needed smash hit, his much-loved theatre, livelihood and life could literally come crumbling down around him.
That's until a chance discovery by the buffoons-cum-performers who are also at their wits' end about how to turn the theatre and their careers around. Together, a plan to impersonate one of the greatest duos of all time—the Marx Brothers—is hatched amongst them, with the help of some never before seen scripts. What could possibly go wrong?
In terms of Dominic Hedges's production—very little goes wrong. The predictable puns and numerous one-liners scattered amongst the pithy script are all intentional. Thankfully, there aren't too many to sit through. When comedy and war come together, it can sometimes be difficult to get the appropriate balance. In this case, the tone and respect for the Blitz and bombs falling around them is suitably appropriate. The combination of mild farce, comedy and the attempt to address the struggle and the pressure war puts on all sorts of people is addressed and moving at times.
There's a genuine sense of how a shabby theatre, both front and back of house, would actually look and operate back in the 'forties. That's thanks to the flimsy, slightly tarnished, dimly-lit and atmospheric set. It's intentionally two-dimensional, adaptable and beautifully quirky—much to the credit of Mitchell Reeve.
The second half of Doppel Gang reveals that not everyone is singing from the same script. Tension mounts amongst Tommy (Peter Stone), Cyril (Jordan Moore) and Rachel (Rachel Hartley) and something ultimately gives. Particularly impressive is Rachel Hartley, a feisty female who holds no punches when required.
Doppel Gang attempts a lot and manages much of what it sets out to say. But, it does fall short in some areas leaving avenues that could have been interesting undeveloped and bland. A braver attempt in these areas would have done more than simply scratch the surface.
That being said, it's funny, moving and relevant despite being set during a war that many of us are only able to read about as that generation continues to slip away.
Reviewer: Thomas Magill