Tales and Postcard (from another country)

Dora Frankel Dance
Caedmon Hall, Gateshead
(2007)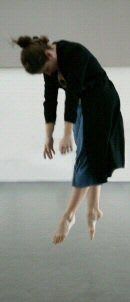 Dora Frankel Dance is a new dance company based in Wallsend, North Tyneside, and led by Dora Frankel, a former Rambert and Benesh student who has worked with Ballet Rambert (as it then was) as a choreologist, the American Ballet Theatre and the Royal Swedish Ballet.
This double bill consists of two contrasting pieces choreographed by Dora Frankel. It opens with Postcard (from another country), an abstract piece for two dancers (Rejane Garcia and Paul Chantry). Inspired, Frankel tells us, by Hippopotamus Hall in Park Guëll, Barcelona, and the "rich mood created by the late summer season in Northern Sweden", in just eighteen minutes it fills the space with an evocation of that mood, together with fleeting human exchanges between with dancers.
Tales is very different. The two dancers from Postcard are joined by Rosa Stourac McCreery and the piece begins with words, introducing us to the tales that people tell: tales about themselves and about their relationships with others. Working solo, in twos or all together, the dancers explore these relationships with a gentle humour which, at times, had the audience laughing aloud and, for most of the rest of the time, smiling inwardly.
The music for Tales exhibits a fascinating eclecticism - we go from the old standard Let's Face the Music and Dance, through La Traviata, to heavy metal - which well reflects the mix of the "tales" explored.
At only an hour and a quarter, including interval, it's a short programme, but a very enjoyable and accessible one, which would provide an ideal introduction to contemporary dance.
The programme is repeated at the Arc, Stockton-on-Tees, on Saturday 10th February
Reviewer: Peter Lathan