Dorian Gray
Matthew Bourne
New Adventures presents
New Victoria Theatre, Woking, and touring
(2009)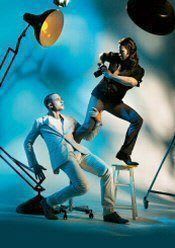 Matthew Bourne premiered this work at the Edinburgh International Festival in 2008 where it was awarded the Edinburgh Festival Herald Angel Award for Excellence and went on to play to packed houses in London and on tour, but this is the very last chance to catch it - the latest tour ends at Woking on Saturday, 21st November.
I would advise reading the novel beforehand (or at least check the programme notes) as Oscar Wilde's tale of the 'picture in the attic' has been transported to a modern world and genders of some characters have been reversed, but the basics of the story are just as relevant today with our emphasis on celebrity culture and obsession with youth and beauty, and the story warns in graphic detail of the destructive power of a hedonistic lifestyle.
Music is composed by Terry Davies using a great deal of insistent, throbbing rhythms on drums, keyboard and guitar which drive the narrative along and increase the tension and sense of foreboding, although balletomanes will notice snippets of Sleeping Beauty, Romeo and Juliet and Swan Lake slipped in at appropriate moments.
This Dorian - danced sublimely with athleticism, strength, stamina and a tremendous physical beauty by Richard Winsor - is discovered by fashion photographer Basil (Jason Piper) and, with the connivance and encouragement of a predatory Lady H., becomes the 'face' of the latest must-have perfume 'Immortal pour Homme', his picture appearing everywhere and his celebrity status confirmed by an appearance on the Jonathan Ross Show. Michela Meazza is Lady H. (Wilde's Lord Henry), smart, trendy, seriously efficient and arrogant as she confidently struts around on her high heels, but her influence over Dorian is reversed as she too falls under his spell, resulting in a sinuous and sexually charged pas-de-deux with bodies writhing in almost graphic detail.
It is the male pas-de-deux however, which calls on the dancers for exceptional strength, particularly in the lifts with not only a heavier partner but a different distribution of weight to contend with, and there are a several of these with alternating partners. Bourne never gives his dancers an easy ride, although, to be fair, they do contribute a lot of the choreography themselves.
Dorian's unconvincing liaison with ballerina Sybil in the Wilde version is translated into his infatuation with Cyril dancing the role of Romeo, and who meets his end 'Juliet style' comatose across a bed with a drugs overdose.
The camera is the instrument controlling Dorian's rise to fame, but it has also created a monster which ultimately causes destruction to everyone involved.
Lez Brotherton's set dominates the stage, is as amazing and inventive as the dancing and totally indescribable, but well worth seeing. It seems to be the consensus of opinion that this is one terrific, exciting, powerful and dramatic production, and not to be missed.
Now that Dorian Gray has ended (possibly until a later revival) what's next in the Bourne pipe-line? He suggests that it will most likely be Cinderella and most definitely heterosexual. What unusual and unexpected slant will he put on that one? I can't wait!
Reviewer: Sheila Connor