Double Double Act
Christopher Brett Bailey, Tim Cowbury and Jessica Latowicki
Unicorn Theatre in association with Made In China
Unicorn Theatre (The Weston)
–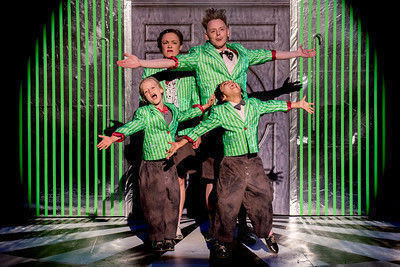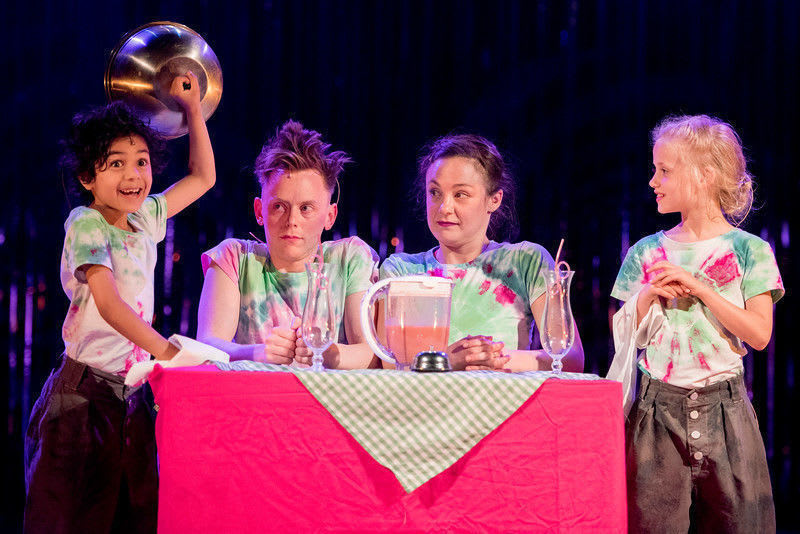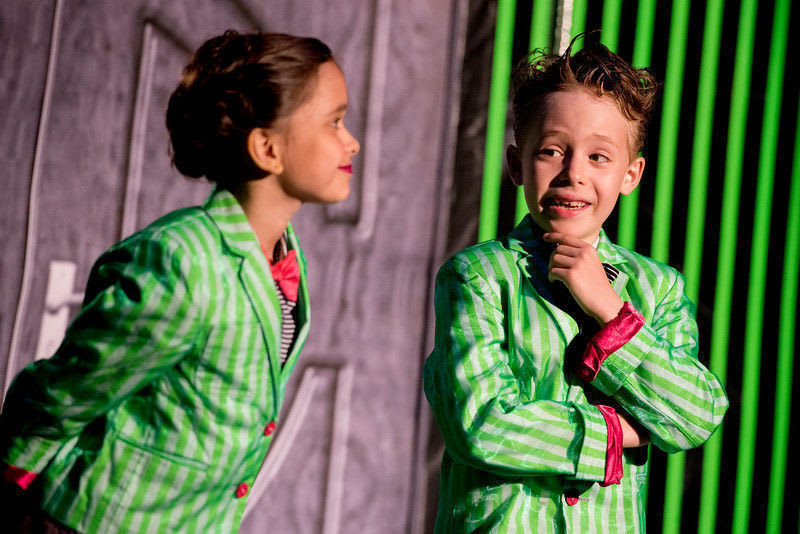 Kids have a cruel sense of humour and Made in China's new show plays on it.
It is exactly what the title says: a double act doubled. The first pair are a couple of youngsters: eight-year-old Seb Booth and Nayana Crowe, aged 10 (they alternate performances with Caspian Tarafdar and Caitlin Finlay, both 7) who slip out onto the sides of the stage where there are wall 'phones and begin a telephone conversation with each other, picking out members of the audience and discussing them. One school party were delighted when they decided an early middle-aged teacher was 80, or perhaps 87.
When they ring off and disappear, a couple of adults come on with a piston-armed locomotive walk and then reverse it to go off backwards. They are New Yorker Jessica Latowicki and Canadian Christopher Brett Bailey who return to greet us with "Good morning / afternoon / evening" to suit all eventualities.
They remind each other that this is children's theatre and today they must not be rude but they are soon in trouble. Bowing to the audience and then each other, their "how do you do?" soon becomes "how do you do-do?" and we are into scatological humour and just in case anyone is slow on the uptake there is some dumb show to make it quite clear.
Raising the tone a little, they tell us this is a play about wordplay and that even the word play is full of play about wordplay. Then it is time for their actual act—a pretty basic walking stick dance routine. They bid farewell and are then replaced by the juvenile performers who present a shortened version of the same material to the consternation of the grown-ups before the two double acts unite into a double double act.
Between them, they now offer a zany variety bill, scenic elements are successively flown to open up the stage for yet more anarchic episodes featuring fart jokes, mad chases, a cooking sketch with smashed eggs, an inversion of what is considered edible and some ghoulish ingredients, comic violence going from battering with a frying pan to a punch from the biggest fist ever, copious green slime, projectile vomiting and even a knife throwing act.
It's a medley of the deliberately childish aimed at both children and adults, built largely from slapstick and word play: like the ringing mobile 'phone that has to be smashed out of a block of ice before it can be answered turns out to be a cold call.
Brett Bailey with his quick grins is the most manic, spilling words from a motor mouth, Latowicki affecting more sober responsibility. She's the butt of most of the violence but also the source of the farting. With the younger performers I saw, it was Navana who seemed more in charge, occasionally cueing her younger partner.
It is the vitality of the performers that drives things and they are greatly helped by Emma Bailey's sparkly setting with its own jokes, like the feet facing sole out on each of the footlights.
Director co-creator Tim Cowbury gives us occasional glimpses of an underlying seriousness, suggesting there's not really that much difference between children and grown-ups as they both laugh at others' discomfort, a side glance at misogyny (a comparison of boys with girls got the show's biggest response from the audience) and perhaps making a point about real violence by emphasising the cartoon way they perform it to make it painless. That seems in lieu of a "don't do this at home" message.
At one point, the young performers go out and question adult audience members. "Where do babies come from?" got an evasive answer but the questioner didn't pursue it. That encapsulates quite a lot about the adult-child relationship.
Theatre for young people conventionally carries a badge saying "educational" (and of course, Double Double Act has its own school's resource pack). There are certainly themes here to start off class discussion but it's the licence for rudeness and the reversals—like eating worms (though here they are actually jelly ones)—that the audience clearly enjoy most.
Reviewer: Howard Loxton