Double Feature
Philip Differ
Gilded Balloon
Gilded Balloon at Rose Theatre
–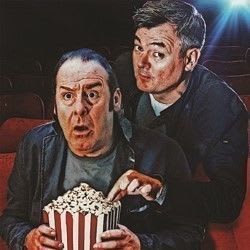 Set against a backdrop of fading film posters, abandoned reels of film and cinema seats covered in dust sheets, Double Feature brings together two best friends whose job it is to clear the mess but whose minds quickly drift to the past glories of the Regal Cinema.
They reenact their favourite films, imitate the actors of the day and parody the previous management, conjuring up grotesque figures who hated children.
Andy Gray and Grant Stott are a formidable comedy partnership and this is a masterclass in timing as they both take turns to be the straight man, each giving the other space to land the laugh and taking their reactions up a notch each time until the joke can no longer be milked.
There's also great familiarity with the audience here and, whilst this isn't actually an interactive show, the fourth wall is definitely fluid; the actors feed off the vocal responses to the cinematic memories evoked (plenty of 'ohhhs' 'ahhhs' and 'oh I remember that!') and throw in a few cheeky, knowing asides too.
The many sound effects are impressive but after the umpteenth "do you remember when…" the format starts to wear thin and the dramatic crux of the piece, which hints at the depth that both actors are clearly more than capable of, is unfortunately is squeezed into the last few minutes of the play.
A humorous, intimate and safe trip down memory lane with a cleverly conceived climax, Double Feature is a warm-hearted show performed with ease by two men who look every inch at home sharing the stage.
Reviewer: Amy Yorston