Double Act
Joanna Peisse and Kitty Fitzgerald
A Cloud Nine/York Theatre Royal co-production
Theatre Royal Studio, York
(2006)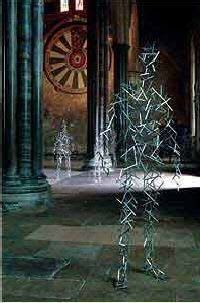 No-one could accuse Cloud Nine Theatre Company of playing it safe. Created by playwright Peter Mortimer in 1997, Cloud Nine provides a showcase for new work by Northern writers and has performed in such unlikely places as Hadrian's Wall and a River Tyne ferry. The company now joins forces with the Theatre Royal to present two one-act plays, Joanna Peisse's The Steal and Kitty Fitzgerald's Men, Women, Inspectors and Dogs, both directed by Tim Welton.
The Steal was inspired by Antony Gormley's work Domain Field, created for Newcastle's new Baltic art gallery in 2003. His delicate steel sculptures were based on casts taken from the bodies of three hundred intrepid Geordies who volunteered to be wrapped in clingfilm and covered in plaster. Steve (Christopher Connel) thinks it all sounds a bit kinky, especially since one of the models is his beloved 82 year old Nana (Ann Ridley). Only after Nana's death does he understand her delight in the project as a means to achieve a kind of immortality, or at least to make an impression - no pun intended - on a society in which the elderly are often excluded and patronised. Steve kidnaps Nana's cast and, with the unwilling help of his welder friend Dave (David Raynor), sets about creating his own sculpture.
The Steal is a funny and poignant little piece made all the more remarkable by the fact that it is the author's first play. Peisse has a fine ear for dialogue - not a word is wasted - and she never slips into the cheap sentimentality that so often disfigures fictional treatment of the elderly. Ann Ridley gives a lovely performance as Nana, maker of the best Christmas puddings on Tyneside, and Connel and Raynor are not far behind.
The second part of this highly entertaining double bill is in complete contrast to the first. Men, Women, Inspectors and Dogs is a zany comedy of identities in which the conventions of TV police drama are undermined by surreal humour. Respectable businessman Cliff (Christopher Connel) is mugged by a young man, but much to the disgust of the Inspector (David Raynor) he refuses to press charges. The incident was witnessed by Lizzie (Jacqueline Phillips), a career woman who has returned to Newcastle for a nostalgic meeting with her old friend Tina (Arabella Arnott). But the plot thickens when Lizzie and Tina are reunited at a catastrophic dinner party and a Scottish gatecrasher claims to be Lizzie's boyfriend
Men, Women, Inspectors and Dogs is very much a farce, performed at breakneck speed on Rachael Canning's simple but effective set. David Raynor (Inspector), Christopher Connel (Cliff), Jacqueline Philips (Lizzie) and Arabella Arnott (Tina) give it their all, although I must confess to being baffled by Ann Ridley's frequent appearances as a grimacing white-coated character who might have been more at home in Frankenstein's laboratory. Was she the dog-walking policewoman who also witnessed the mugging? It hardly matters in such a deliberately OTT play, and it certainly provides Ms Ridley with a role very different to that of Nana!
Cloud Nine has an impressive track record of supporting new work - so far it has commissioned plays from seventeen Northern writers - and the Studio is the perfect venue for one-act plays. One hopes that this very enjoyable collaboration between Cloud Nine and the Theatre Royal will be the first of many.
Reviewer: J. D. Atkinson